Saanich Parks would like to determine whether Horner Park [PDF - 166 KB], in its current state, is still meeting the needs of local residents. Through community consultation and research, we will review existing park infrastructure and amenities and create a park plan. We will add any new items in 2020!
Open House
Drop in to view concept plan options for the park and share your ideas with us!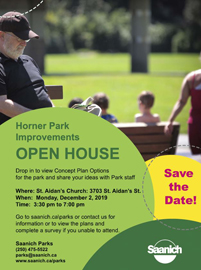 Where: St. Adian's Chruch, 3703 St. Adian's Street
When: Monday, December 2, 2019
Time: 3:30 to 7 p.m.
Summary of Public Survey
If you were one of the 257 people who completed our first public survey about Horner Park – thank you! Check out the summary [PDF - 591 KB] of the most noted items from that survey which was open to the public from June 18 to Sept 2, 2019.
Just so you are aware, we have also noted many things that did not 'rise to the top' of the comments received. A handful of those items were:
that there are children and others with special needs who utilize this park on a regular basis;
we know that Horner Park is a popular place for dog walking;
based on census data we know that the area surrounding Horner Park is unique in that it has a high percentage of older adults as well young adults (we're presuming this is due to the close proximity of two post-secondary institutions);
the small parking area at the corner of Broadmead and Iona has some issues with organization and long-term parking. Please note: this parking is in the road right-of-way and technically not the jurisdiction of the Parks Department but is something we hope to look at with other departments.
Next Steps
We will utilize survey information and conversations with select stakeholders to develop at least two possible concepts for the park which we will ask the community to review and comment on at a public engagement event later in the year. Watch this website and for posters in the park for notice of that upcoming event.
Background
Horner Park is a 2.08 hectare (5.14 acres) neighbourhood park zoned P-4 (Recreation and Open Space). The park is in close proximity to UVIC, Mt Tolmie and Onyx Parks as well as the Shelbourne/Cedar Hill neighbourhood centre. It is located in the Shelbourne Local Area and is within the boundary of the Mount Tolmie Community Association.
Check out the information boards [PDF - 2 MB] from the Mount Tolmie Community Association AGM on June 22, 2019.
Horner Park Renewal Project Timeline