Playground is open in Reynolds Park [PDF - 172 KB]!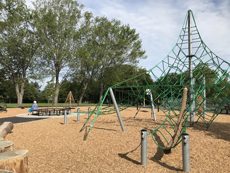 Come and check out the giant net climber that stands 20 feet in the air, or climb up the log steppers and over the bridge in the sand area to the digger.
The new play equipment also includes a structure with slides for kids aged 2-5, a spring toy, spinners and swings with a saucer swing.
New picnic tables, a circular bench and regular bench seating welcome the family to come spend the day.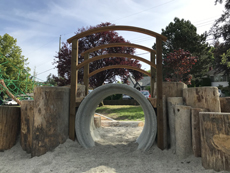 Check out the initial playground concept [PDF - 397 KB].
Park background
This neighbourhood park features soccer, Lakehill Lawn Bowling, tennis courts, asphalt pathways, a sportcourt and an old playground. Our Saanich Neighbourhood Playground Program (SNPP) runs camps here each summer. Reynolds Park [PDF - 172 KB] is off of Reynolds Road with some angled parking along Laselle Street. You can find the main parking lot with a rain garden off Prestwood Drive.
Reach us at parks@saanich.ca.