Normandy Park is now open!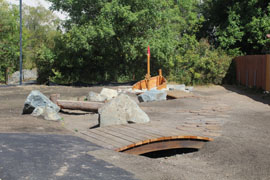 The park with new playground and natural play trail are open.
Please keep off newly seeded grass areas and stay on pathways.
Final work items for the project include a fence along the road side property line for safety, plantings in the natural play trail and tree planting in late fall.
Normandy Park [PDF - 173 KB] is a small neighbourhood park attached to Commonwealth Place Park. It features a playground and pathways connecting to Saanich Commonwealth Place Recreation Centre.