Project Update: December 2020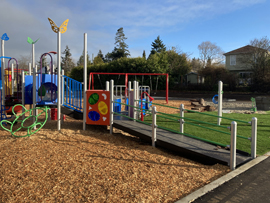 Horner Park [PDF - 166 KB] is now open! Check out the new accessible playground components. Some items still coming:
planting trees and other landscaping items
installing the interpretive sign which the Mt Tolmie Community Association worked hard on this past summer
placing inground garbage cans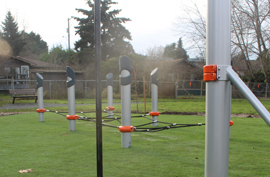 Do not enter fenced zones - these are construction areas and not suitable for members of the general public. Stay off freshly seeded grass areas.
Concept Plan
76 individuals wrote emails and letters to us about the Proposed Concept Plan for the park– if you're interested in getting a sense of what people told us please see the summary [PDF - 244 KB]. In those emails and letters there were a few questions which we've attempted to answer in a Horner Park Q&A [PDF - 144 KB].
Check out the final plan for the park.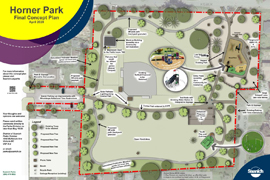 Some of the highlights of the final plan include:
Washroom access (as approved through the Washroom Operations and Capital Plan). Hours of operation to be reviewed as typically Park washrooms in Saanich are open from 7 a.m. to 11 p.m.
Pathway loops in the park (some are proposed as asphalt and others are proposed as hard-packed granular).
Additional benches and picnic tables in various locations in the park.
Flat area well graded area for games such as bocce and croquet, etc.
Enhanced sports court with doubled ended game opportunities.
Split rail fence which helps to visually create a family zone surrounding the playground.
Opportunity for community art initiatives (entry posts at the family zone and mural on the park building).
Enlarged playground with equipment for a broader age range (2 to 5 and 5 to 12 year age groups) and for those with mobility challenges.
Play/exercise equipment designed for youth 13+ years located in a separate 'Youth Area'. The type and style of equipment that will be installed in both the Playground and Youth area.
Solar pathway lighting along the main pathway. These lights will have a lower intensity and be on timers so they are 'dark sky' compliant.
Improvements to the existing gravel parking lot, which includes some widening and the addition of wheel stops and limiting hours to a maximum of 3 hours.
Installing new park identification signs closer to the road edge.
Although the volleyball community was very interested in having courts located at Horner Park it was apparent that many residents in the surrounding community were not in support - so we will not be building Volleyball Courts in this park. We do intend to continue working with the volleyball players to try and find a more suitable location for this active and popular sport. We also discovered that visitors to Horner Park appreciate and value their open space. In order to maintain this open space a community garden is not included in the park design. The existing sport court will stay in its existing location and now feature two basketball hoops and two hockey nets (for games).
Summary of the public engagement to date
Thank you if you were one of the 134 people who attended the Open House held on December 2, 2019 or were one of the 204 people who completed our survey. We based the Proposed Concept plan of these two initiatives as well as conversations with various individuals from the community. You can review the summary [PDF - 442 KB] of the most repeatedly noted items from that survey (this was second survey associated with this project).
You can also view the initial proposed concept plan [PDF - 2 MB] for Horner Park.
Background
Horner Park is a 2.08 hectare (5.14 acres) neighbourhood park zoned P-4 (Recreation and Open Space). The park is in close proximity to UVIC, Mt Tolmie and Onyx Parks as well as the Shelbourne/Cedar Hill neighbourhood centre. It is located in the Shelbourne Local Area and is within the boundary of the Mount Tolmie Community Association.
Horner Park Renewal Project Timeline