Saanich Parks is updating Horner Park [PDF - 166 KB]! Through community consultation and research, we will review existing park infrastructure and amenities and create a park concept plan. We plan to start improvements starting July 2020!
Proposed Concept Plan open for review and comment
Based on the feedback we received from our Open House, the recent survey and conversations with various individuals from the community we have developed a proposed Concept Plan for Horner Park.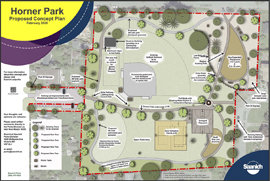 [PDF - 2 MB]
We have reflected back what people told us and are now interested in hearing what you think of the proposed plan. To keep this project on schedule, please send your feedback by March 16, 2020.
We are encouraging people to review the plan and send any comments directly to us via either mail or email:
District of Saanich
Parks Division
1040 McKenzie Ave
Victoria BC V8P 2L4
Some of the highlights of the proposed plan include:
Washroom access (as approved through the Washroom Operations and Capital Plan). Park washrooms in Saanich are typically open from 7 a.m. to 11 p.m.
Pathway loops in the park (some are proposed as asphalt and others are proposed as hard-packed granular).
Additional benches and picnic tables in various locations in the park.
Flat area well graded area for games such as bocce and croquet, etc.
Enlarged sports court with doubled ended game opportunities.
Split rail fence which helps to visually create a family zone surrounding the playground.
Opportunity for community art initiatives (entry posts at the family zone and mural on the park building).
Enlarged playground with equipment for a broader age range (2 to 5 and 5 to 12 years).
Play and exercise area designed for youth 13+ years.
Sand volleyball courts (x2) - examples of sand courts are located at the Ian H Stewart Complex at UVIC (behind the tennis courts) and at Tulista Park in Sidney.
Solar pathway lighting along the main pathway and possibly at the washroom entrance. Examples of this lighting is located at Layritz Park. These lights are shielded, have lower intensity and are on timers so they are 'dark sky' compliant as they are close to the Observatory. A similar approach could be done at Horner Park.
Improvements to the parking lot, which includes some widening and the addition of wheel stops and limiting hours to a maximum of 3 hours 9with Council approval as requires an amendment to our Parks Management Bylaw).
Installing new Park identification signs out closer to the road edge.
An area set aside for a potential community garden. A Community Garden Association typically operates community gardens and are responsible for funding the implementation and operation of such a facility. As with other community gardens in Saanich Parks, the garden must be open and accessible to the public. Review the Saanich Policy relating to community gardens [PDF - 21 KB]. Examples of other Community Gardens in Saanich Parks are located in Glanford and Gorge Parks.
Summary of the public survey
Thank you if you were one of the 204 people who completed our survey! You can review the summary [PDF - 442 KB] of the most repeatedly noted items from that survey (second survey associated with this project).
Next steps
Once we receive feedback about the proposed plan (closing March 16) and have a conversation with the Community Association, we will finalize a concept plan for the park. Expect construction to start in early summer 2020 and continue through the fall. We will close the park during construction to ensure public safety.
Background
Horner Park is a 2.08 hectare (5.14 acres) neighbourhood park zoned P-4 (Recreation and Open Space). The park is in close proximity to UVIC, Mt Tolmie and Onyx Parks as well as the Shelbourne/Cedar Hill neighbourhood centre. It is located in the Shelbourne Local Area and is within the boundary of the Mount Tolmie Community Association.
Horner Park Renewal Project Timeline