The parking lot at Gorge Park [PDF - 175 KB] will be undergoing improvements this fall.
Phase I of this project includes decommissioning the entrance driveway to restore to greenspace with a gravel pathway, tree planting and native vegetation. The middle driveway will be converted to a one-way entrance into the parking lot and the currently driveway exit will remain.
Both vehicle access points into the parking lot will have a gate installed and the existing parking area will be reconfigured with additional accessible stalls near the main pathway in the park.
The parking lot will be closed to vehicles with both gates locked from 11 p.m. to 6 a.m. to enforce the current no overnight parking portion of the parks management bylaw.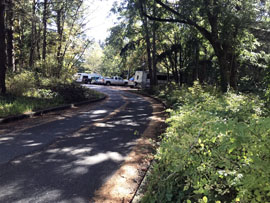 Phase II includes Engineering roadwork improvements along Gorge Road West. We will be restoring the ground by the exit driveway with additional native plants and planting trees. Additional asphalt stamping in the parking lot will delineate a pedestrian walkway from the new concrete sidewalk leading from the road into the main park pathway. The timeline for Phase II work is yet to be determined.
We anticipate construction for Phase I to begin the first week of November. During Phase I construction the parking lot not be open to the public. We ask park guests to find alternative parking during the active construction phase.