100th year anniversary of Gore-Peace Memorial Park
Gore-Peace Memorial Park [PDF - 172 KB] was dedicated in 1919 when a memorial ceremony was held on July 19 to honour the young men from Saanich who did not return from WWI.
A peace memorial made out of a granite block was unveiled in the park on November 11, 1957. The memorial was then relocated from the park to the municipal hall after a 5-2 council vote in May 1970. For more information visit the Saanich Archives.
Proposed park improvements
To honour this significant centennial Parks has worked with the Mount Tolmie Community Association to develop proposed improvements. Enhancements include a decorative connection pathway through the park, a small park plaza with a fountain and seating area, additional trees and irrigation. Find Gore-Peace Memorial Park near the intersection of Shelbourne and Church.
Project Update: November 2019
Just in time for Remebrance Day, the fountain is ready for viewing! Just some finishing touches still needed. Check out the new look!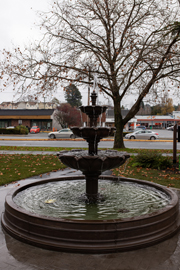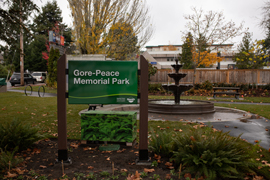 Project Update: July 2019
After the spring engagement process, Park staff completed the park improvement plan. The park upgrade will begin in the middle of July through to early fall.
Contact Saanich Parks at parks@saanich.ca or 250-475-5522 for more information.