Saanich Parks will host food trucks at Cadboro-Gyro Park and Beckwith Park starting July 1 and run until September 9. Vendors will choose their hours between 9 a.m. and 9 p.m. daily.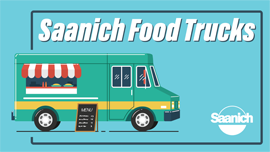 Vendors
Participating vendors for 2022 include Country Crepes, Greek on The Street, Cup-a-Roni, Sub-Zero Ice Cream, Candytime, and Holy Cow Mini Donuts. Together these vendors offer a wide range of sweet and savoury menu options.
Participating vendors will independently maintain their schedules on the Victoria Food Trucks website.
Saanich is not able to confirm attendance on any given day – unforeseen circumstances may cause a vendor to not be available.
Where you will find food trucks...
Any questions about this? Contact us at parks@saanich.ca or 250-475-5522.