Reinforcing the shoreline
The Cordova Bay shoreline at Mount Douglas Park has been eroding for many years. Saanich has done a number of projects to try and stabilize it and has had a number of studies done since the 1980's. The remedial projects worked to some extent, but none were completely successful. The shoreline continues to erode and the bank continues to slip.
Slope Stability Reviews
Engineering consultants (Thurber Engineering) were retained to review the stability of the shoreline on an ongoing basis. Thurber Engineering's most recent report [PDF - 3.1 MB] is from May 2016.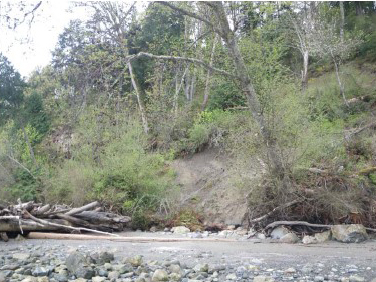 The report assesses existing conditions and provides recommendations including the following: "Saanich should prepare a strategic plan to protect or relocate Cordova Bay Road within Mount Douglas Park." Conclusions note "While the apparent short-term risk to Cordova Bay Road appears to be relatively low, significant terrain hazards exist for Cordova Bay Road over the medium and long term."
As a result the Cordova Bay Road Protection Project has been initiated and technical work is underway. More information about the Cordova Bay Road Protection Project will be published later this summer.
Also as noted in the report, the bank north of Mount Douglas Park is affected similarly to that fronting the park. As per consultant recommendations, property owners have been advised to seek professional advice regarding the terrain hazard on their individual properties.
Previous Mitigation Options
Since the early 2000's, there have been a number of mitigation options considered to stabilize the slopes and the toe of the slope including:
Slope drainage wells to relieve ground water pressure
Bank bioengineering to stabilize soils
Shoreline rock revetment to keep the toe of the slope from further erosion
New ocean headlands to dissipate wave action thus reducing further erosion of the toe of the slopes
Designs and cost estimates were initially prepared in 2004 and then further updated in 2009. In the intervening years analyses was conducted by consultants to assess environmental impacts as well as studies on wave action and sediment transport in Cordova Bay and laboratory studies to further evaluate the headlands option.
List of Historical Documents: