Environmental Services transitions to Parks Division
As of April 25, 2022, staff from the Environmental Services Section of the Planning Department joined the Parks Division of the Parks, Recreation and Community Services Department.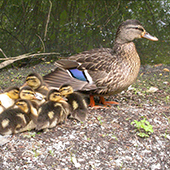 This reorganization is structural and operational in nature to create a logical and stronger alignment of our services and programming related to the environment in Saanich. This structural change creates efficiencies in service delivery and workflows and increases opportunities for growth in how Saanich cares for the environment in parks and in partnership with landowners on private lands.
Parks staff is made up of highly qualified experts. The Parks Division has expertise in the environmental areas of conservation biology, forest ecology, natural areas restoration including stream restoration, forestry operations, tree health care, nature education and interpretation, stewardship leadership, horticulture, pollinator stewardship, and invasive species management.
These expertise and skills are complemented by the Environmental Services expertise in the areas of fisheries biology, stream ecology, natural areas restoration, species at risk, invasive species management, conservation biology, nature education and interpretation, private land stewardship, and GIS services.
These changes will allow us to better address organizational objectives related to the environment, continue to deliver high levels of service to our residents, and achieve our Strategic Plan goals.