Mount Douglas Park - Park Ambassadors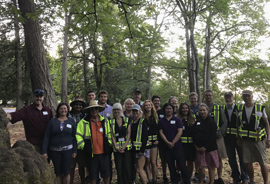 Note: All volunteer activities are currently suspended during the COVID-19 pandemic. Please check back in the near future for when we can provide more information.

Saanich Parks and the Friends of Mount Douglas are pleased to let everyone know that the 2018 Park Ambassador pilot project in Mount Douglas Park launched in the summer of 2018 was a success! The pilot project is now an official program to be continued throughout future years. Apply now! [PDF - 202 KB]
Wonder what Park Ambassadors help with? Review the detailed position description.
Help spread the news - you can share or post our Park Ambassador recruiting flyer [PDF - 198 KB].
Park Ambassador program history
Beginning in right before the May long weekend of 2018, the Park Ambassador Project grew to 17 volunteers by July. They roamed around Mount Douglas Park in safety vests, armed with a backpack full of supplies (even doggy treats)! Ambassadors educated park users about etiquette, provided directions, picked up litter, and kept our park safe and welcoming.
Since we demonstrated the positive effect this short pilot project had on the volunteers, park and the community, on October 1, Council approved the program to continue.
We hope that you are able to meet one of the Park Ambassadors in Mount Douglas Park. Saanich Parks welcomes any feedback you might have regarding the project, and more importantly if you interact with one of the awesome Park Ambassadors. Please let us know your thoughts about the Park Ambassador project by contacting us at parks@saanich.ca or 250-475-5522.