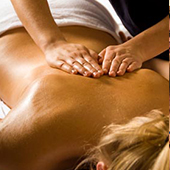 Tired, sore and stressed out? Enjoy the many benefits of massage:
Relaxation
Pain relief
Improved circulation
Improved healing and recovery to damaged tissue
Relief from headaches and migraines
Stress relief
Most extended health care plans cover massage services. We offer massage therapy at two Saanich recreation centres:
Gordon Head Recreation Centre
These services are unavailable at this time. We apologize for any inconvenience.
Saanich Commonwealth Place
Book an appointment with one of our Registered Massage Therapists:
Call Left Coast Health at 250-475-7630
In person at the clinic or online with Leftcoasthealth.com
Registered Massage Therapists:
Marcus Blumensaat BSc., RMT, SMT(C)
Jennifer Graham, RMT
Julia Vosburgh, RMT
Fees
30 minute session: $63
45 minute session: $84
60 minute session: $100
90 minute session: $163 - these may only be booked with the therapist's permission
(Includes tax)
Child-minding services are unavailable at this time.