Saanich Parks, Saanich Pulling Together Volunteers, Ducks Unlimited, and the Rithet's Bog Conservation Society are hosting a volunteer event to remove invasive non-native Narrow Leaf and Hybrid Cattails from the wetland adjacent to Chatterton Way at the west end of Rithet's Bog.
Our goal is to improve the wetland habitat for waterfowl and shorebirds while providing better wildlife viewing by reclaiming areas of open water and mudflats that have been overgrown by non-native, invasive cattails.
We will not be removing significant amounts of our native Broad Leafed cattail species, which is an important part of the marsh ecology.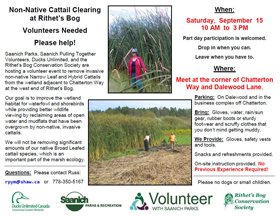 When:
Saturday, September 15
10 a.m. to 3 p.m.
Part day participation is welcomed. Drop in when you can. Leave when you have to.
Where:
Meet at the corner of Chatterton Way and Dalewood Lane.
Parking:
On Dalewood and in the business complex off Chatterton.
Bring:
Gloves, water, rain/sun gear, rubber boots or sturdy footwear and scruffy clothes that you don't mind getting muddy.
We Provide:
Gloves, safety vests and tools. Snacks and refreshments too!
On-site instruction provided. No Previous Experience Required!
Please no dogs or small children.