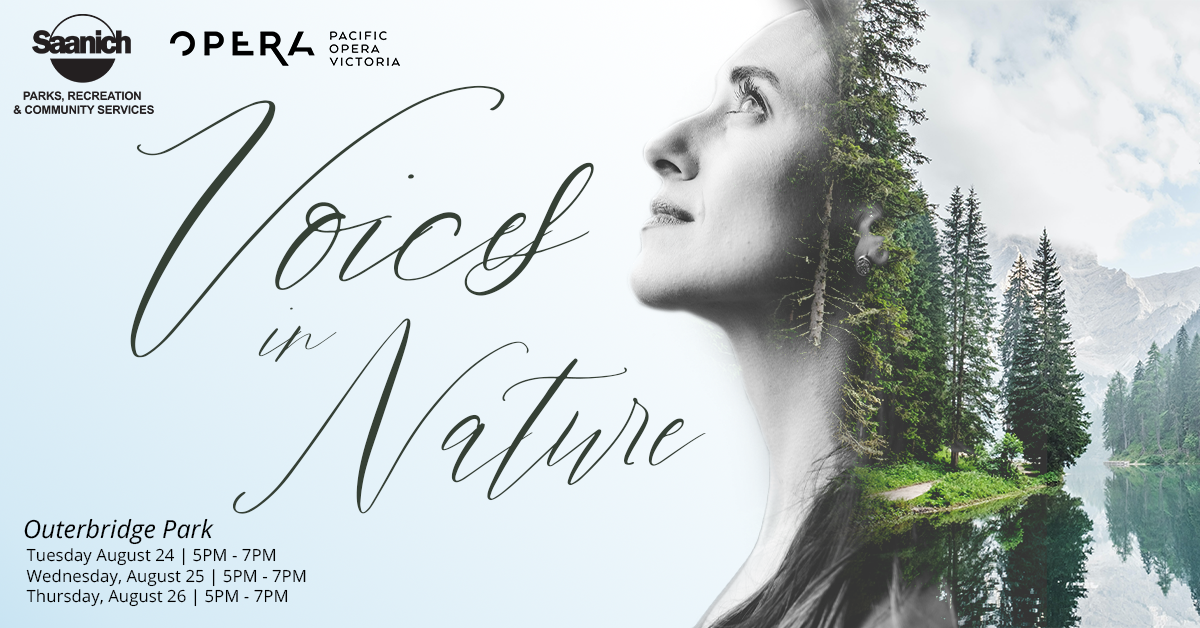 Join Pacific Opera Victoria and guest artists on a peaceful stroll through Outerbridge Park.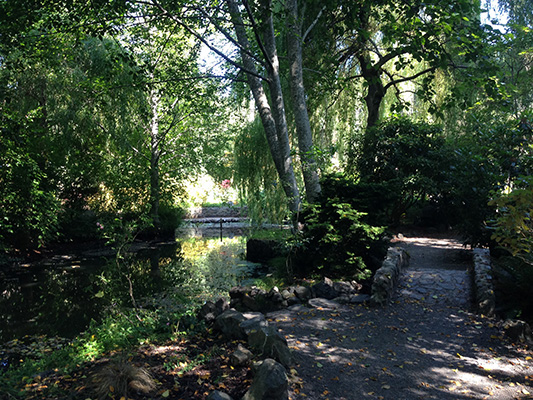 As you walk the trails, experience a variety of artistic disciplines in intimate performances that reflect the beautiful natural environment. All welcome, free admission, limited parking available on site. Artists will be stationed at different locations around the park, and performances will be repeated throughout the 5-7pm period. Plan to spend approximately one hour to enjoy the park and performances.

Transportation and Parking: Limited parking is available on site at Royal Oak and Blenkinsop entrances. Additional nearby parking can be found at Lochside School, 1145 Royal Oak Drive, a 4min walk from the park. Park is located close to trails and active transportation routes.
To visit performance sites through the park, you will need to be able to travel a wide packed gravel trail (mostly flat with a low-grade hill to/from Blenkinsop side.) Portable non-accessible washroom available at park at Blenkinsop entrance.
For planning purposes and to help us provide any information updates, pre-registration is invited but not required.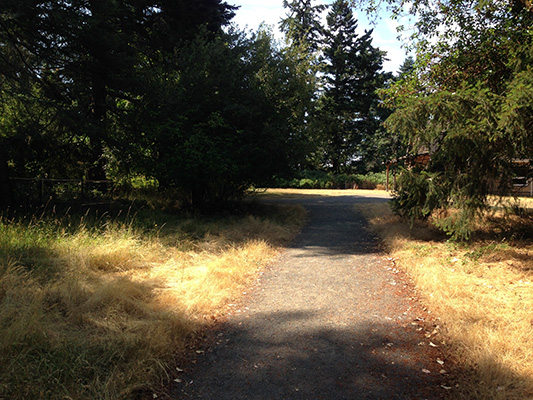 Tuesday, August 24
5:00-6:00pm Voices in Nature - 66183
6:00-7:00pm Voices in Nature - 66184
Wednesday, August 25
5:00-6:00pm Voices in Nature – 66323
6:00-7:00pm Voices in Nature – 66324
Thursday, August 26
5:00-6:00pm Voices in Nature – 66326
6:00-7:00pm Voices in Nature – 66329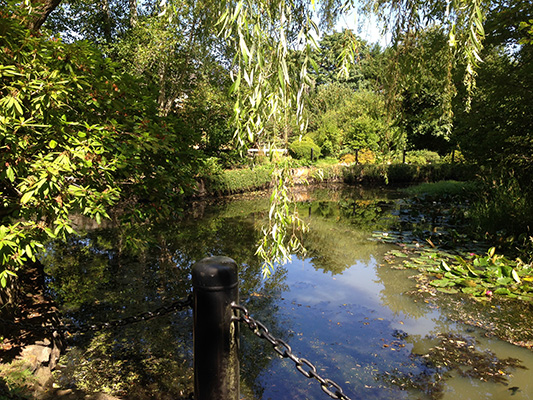 For more information, contact us by phone at 250-475-5557.
For more information on Arts in Saanich, visit www.saanich.ca/arts

Brianna Bear, Visual Artist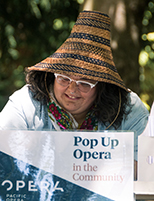 Brianna Bear is an Indigenous artist based in the traditional territory of her fathers' peoplein the Lekwungen, place to smoke herring lands of the Songhees and Esquimalt nations in Victoria B.C. ​Brianna started first as an artist with more than fifteen years of experience. She began learning under her grandfather Skip Dick's younger brother, Butch Dick. Afterwards she branched out into discovering her roots and design through her cultural connections to Songhees & Namgis formline design. Today she is working as one of a few Indigenous female artists within her traditional territory of the Songhees people. She has worked on murals, logos, small business designs, small event designs and more! She looks forward to sharing her art with the wider community. Brianna Bear Art | Facebook
Louis Dillon, Bass-Baritone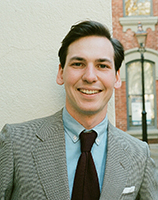 Born and raised in Halfmoon Bay, BC, bass-baritone Louis Dillon owes his love of singing to his mother, a voice teacher. He currently studies with Ingrid Attrot and Nancy Argenta while completing a diploma in Vocal Performance at the Victoria Conservatory of Music. Recent roles include: Guccio in Gianni Schicchi, Papageno in The Magic Flute, the 2nd Prisoner in Fidelio, Customs Sergeant in La bohème, Guglielmo in Così fan tutte, Al in City Workers in Love, and Bartolo in Le nozze di Figaro. Louis has performed with many groups around the island and lower mainland, including Pacific Opera Victoria, East Van Opera, Bach on the Rock, the Victoria Conservatory of Music orchestra, Sooke Philharmonic, and the Victoria Baroque Players. Louis placed 1st at the 2017 Performing Arts BC Provincials.
Kieran Foss, Tenor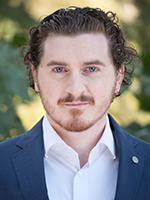 Kieran Foss is a British-born tenor, currently based in Victoria, BC. Kieran holds master's degrees in both vocal performance and musicology from the University of Victoria and a bachelor's degree in vocal performance from the University of Ottawa. As both a performer and a recent SSHRC-funded scholar, Kieran strives to bring an educated and researched approach to every performance. Since moving to Victoria, Kieran has been active in the music scene, appearing in both chorus and comprimario roles with Pacific Opera Victoria, as well as other island-based groups including Caravan Stage Company, Blue Bridge Repertory Theatre, Victoria Baroque, Oceanside Concert Choir, and the Denman Island Baroque Music Festival. Though opportunities to perform have been limited over the past year, Kieran has continued to find moments to make music. Kieran recently appeared with Saskatoon Opera in their Summer Proms series and competed as a finalist in the FCMF National Music Festival. Kieran is excited to be back with POV, performing for a live audience once again!
Rhonda Ganz, Poet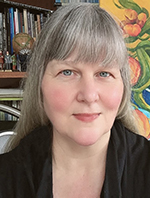 Rhonda Ganz's first collection, Frequent, small loads of laundry (Mother Tongue Publishing) won the Relit Award for Poetry. The book was also a finalist for the Dorothy Livesay Poetry Prize and the Victoria Butler Book Prize. Her poems have appeared in The Malahat Review, Rattle, Room, Harvard Design Magazine, on city buses as part of Poetry in Transit and many anthologies, including Sweet Water: Poems for the Watersheds, Poems from Planet Earth, Rocksalt, Force Field: 77 Women Poets of BC, Erotic Haiku: Of Skin on Skin and Voicing Suicide. She has been a featured reader at Planet Earth Poetry in Victoria, Poets Corner, Twisted Poets and Word on the Street in Vancouver, The Portfolio Reading Series and WordStorm in Nanaimo, and at the inaugural Galiano Literary Festival. She reads crime fiction, watches Judge Judy, and needle felts fancy hearts in the Victoria home she shares with a quiet man and a cat on its third life.
Margaret Lonsdale, Poet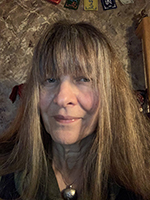 Margaret Lonsdale is drawn to the possibilities inherent in the exploration of natural landscapes, cultures, rhythms, and the manner through which human connections are enhanced by a shared experience of story. At the foundation of her poetry resides a belief that the heartbeat provides a click track for all forms of poetic language. Poems may present as either narrations or song, often as a combination of both. Margaret's writing appears in the following anthologies: Poetry in 13 Volumes 1, 2 & 3; VSS365 Volume 1; Prompting the Moon; Crispy Rooftop Conversation Stories; Flashing Conversation Stories; The Sky is Falling The Sky is Falling; Limericks in the Time of Covid; and From One Line. She is the author of four indie titles: The Dream Below; The Poem Tree; The Tilted Light; and The Warm Yuan. Margaret is an avid photographer, a curious traveller, a life defender of wild nature and all creatures. She values peace and privacy, and is particularly fond of bells. Margaret lives among the cedars in North Saanich, on Vancouver Island.
TW: @fhaedra; IG:@margaret_lonsdale; palefacewriter.com
Nicole Mandryk, Visual Artist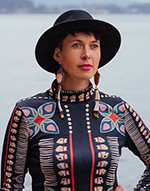 Nicole Mandryk is an emerging Anishinaabe and Irish contemporary beader currently residing on Lək̓ʷəŋən and Esquimalt territory. She began her beadwork journey with Lindsay Delaronde (Mohawk) in 2014 and continues to learn from her other mentors Lynette La Fontaine (Métis) and Jessica Gokey (Anishinaabe). Beadwork is a means of connecting Nicole to her Anishinaabe culture and her work is inspired by stories, animals and the land. She is inspired by Anishinaabe stories, art, land, language, and songs. Nicole has been engaged in performative arts through Indigenous showcases and has been asked by community to compose and share songs. These songs have been sung by "The Wildflowers", " ANSWER" and the Lafayette String Quartet for the project " B.K Weigel/Lafayette String Quartet Legacy Project". She is also an emerging beader.
Michelle Poirier Brown, Poet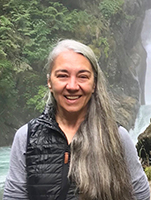 Michelle Poirier Brown is an internationally published poet, performer, and photographer. She is nêhiyaw-iskwêw and a citizen of the Métis Nation. Her poem "Wake" won PRISM international's Earle Birney Prize in 2019. Other poetry has appeared in Arc, CV2, Emrys Journal, The Gainsboro Review, Grain, Plenitude, Right Hand Pointing, Vallum, and several anthologies, including Sweet Water: Poems for the Watershed.Michelle's debut book, You Might Be Sorry You Read This: poetic memoir, is forthcoming in 2022 by University of Alberta Press in the Robert Kroetsch Series. A feminist activist and retired federal treaty negotiator, Michelle now writes full-time.
*Note: Schedule of performers may vary. Additional artists may be added.