Saanich Summer Concert Series
Sunday, August 8 2021
11:00 am - 3:00 pm
Cadboro-Gyro Park, end of Sinclair Road
Enjoy three local bands playing on stage throughout the afternoon at Cadboro-Gyro Park. Bring a lawn chair or blanket and enjoy a day at the beach listening to your favourite songs from the past. Food trucks will be on-site.
Stage Schedule
Tropic Mayhem 11am - 12:00 pm (Beach Boys, Surf)
Cookeillidh 12:30 - 1:30 pm (Celtic)
Theatre SKAM 1:30 - 2:00 pm
Late Shift 2:00 - 3:00 pm (Classics, Oldies)
Although we are able to program outdoor concert events similar to pre-COVID times, we have chosen to offer a variety of performances that will allow community to come out in a way that they feel safe to do so.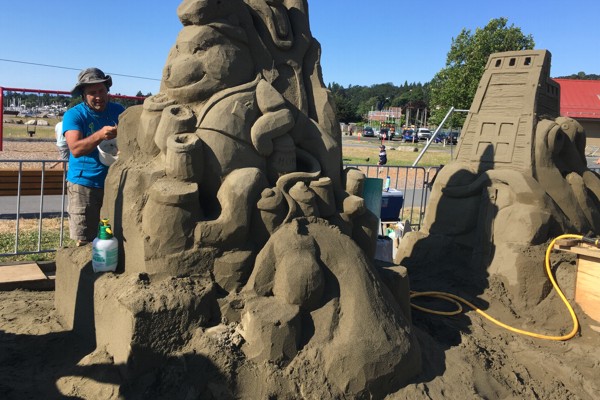 Try your hand at Sand Sculpting
FREE Sand Sculpting Workshop for Kids
Learn the basics of sand sculpting from our local professionals. Each hands-on sand sculpting workshop will teach some of the secrets that our master sand sculptors have taken decades to form and perfect. Students will learn the step by step process of building basic structures and will then put these skills to use, unlock their creativity in the sand and bring their own ideas to life on the large sculptures already in place at Cadboro-Gyro Park.
Session One: 11:30 am - 12:30 pm FREE
Located at the Sand Sculptures next to the children's playground
Ages 6 - 12 years - Limited spots available (pre-register here)
Session Two: 1:00 - 2:00 pm FREE
Located at the Sand Sculptures next to the children's playground
Ages 6 - 12 years - Limited spots available (pre-register here)
Session Three: 2:30 - 3:30 pm FREE
Located at the Sand Sculptures next to the children's playground
Ages 6 - 12 years - Limited spots available (pre-register here)