Saanich Strawberry Festival
Sunday, July 12, 2020
11:00 am - 3:00 pm
Free Admission
NEW for 2020: Strawberries and Ice Cream tickets: $1 per serving
BEAVER LAKE PARK
From its start as a celebration of Saanich's agricultural roots, the Strawberry Festival has blossomed into a grand event for all ages. Enjoy a wide variety of free family activities, including stage entertainment, information displays, face-painting, program demonstrations, craft activities and a wide variety of inflatable games, obstacles, slides and castles.
Bring a blanket and enjoy a day at the beach while a variety of performers entertain on two stages this year.
Upper Level Stage Schedule

11:00 am - 12:00 pm TBD
12:15 - 1:30 pm TBD
1:45 - 3:00 pm Commodores Big Band
Lower Level Stage Schedule
Schedule will be available in June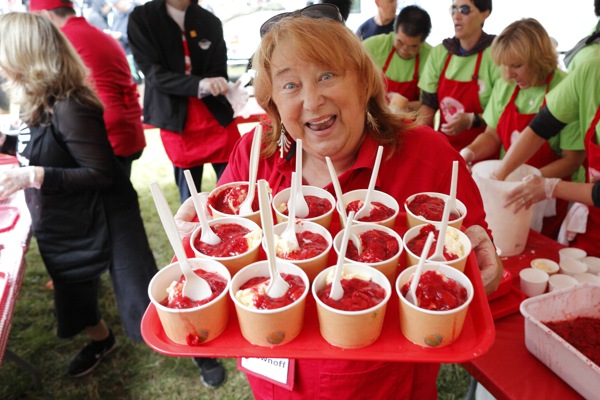 Of course, the afternoon wouldn't be complete without the traditional serving of strawberries and ice cream from 1:00 - 3:00 pm.
Strawberries and Ice Cream
Don't miss out on this tradition! The serving of strawberries and ice cream only takes place from 1:00 - 3:00 pm
Tickets for the strawberries and ice cream go on sale at 11:00 am until quantities last at the Tickets Tent near the children's playground on the Upper Level.
Tickets will likely sell out by 2:30 - 2:45 pm so don't wait until the end of the day. Approximately 3800 tickets will be sold.
Tickets for strawberries and ice cream will now be $1 per serving.
Cash sales only - there is no ATM (cash machine) located within the park.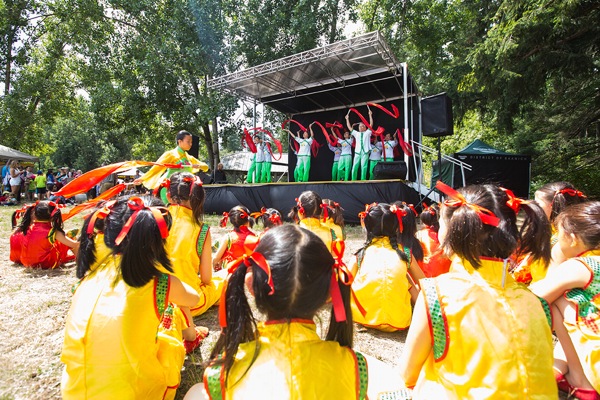 Parking & Shuttle Bus
The Strawberry Festival is a very popular tradition and the main and lower level parking lots will most likely fill up by 12:00 noon. The overflow grass parking area (just off Elk Lake Drive) will be open and two shuttle buses will run from 12:00 noon - 4:00 pm. Shuttle Bus pick-up/drop off locations will be at:
Saanich Commonwealth Place (please use transit to get to SCP)
near the grass overflow parking area
the entrance to the upper level parking lot
Avoid the busy parking lots and Take BC Transit
The Royal Oak transit exchange is a short distance from Commonwealth Place. Leave the car at home and jump on the shuttle bus from Commonwealth Place.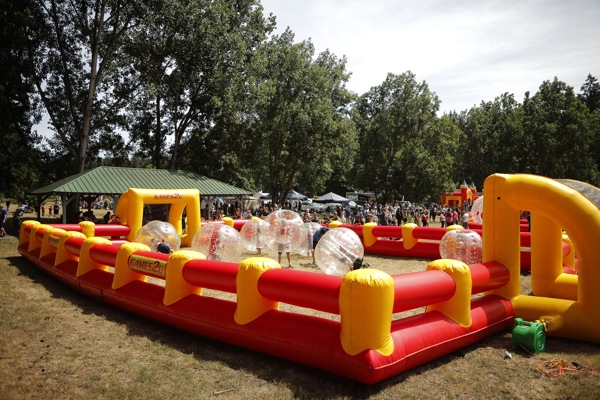 Activities and Particpating Organizations
UPPER LEVEL - Activities and Displays
Gordon Head Lions - SnoCones and Cotton Candy
Rotary Club Concession - Burgers & Hot Dogs
CRD Parks
CRD Environmental Services
Saanich Fire Department
Main Entertainment Stage
Ticket Sales Tent
Ice Cream Serving Tent
MEDIX - First Aid
Saanich Emergency Preparedness
LOWER LEVEL - Activities and Displays

Face Painting by Saanich Parks & Recreation
Saanich Information Booth
Obstacle Courses & Inflatables
Medix - First Aid
CFAX - Virgin Radio 107.3
KidsFUNd Concession
Mini Donuts by Noel
Concession Area Seating
Greek on the Street - Concession
Molly's Fish & Chips
Lower Level Entertainment Stage
Island Savings - Face Painting
Pacific Institute of Sport Excellence
Strawberry Vale Pre-school
Swan Lake Nature Sanctuary