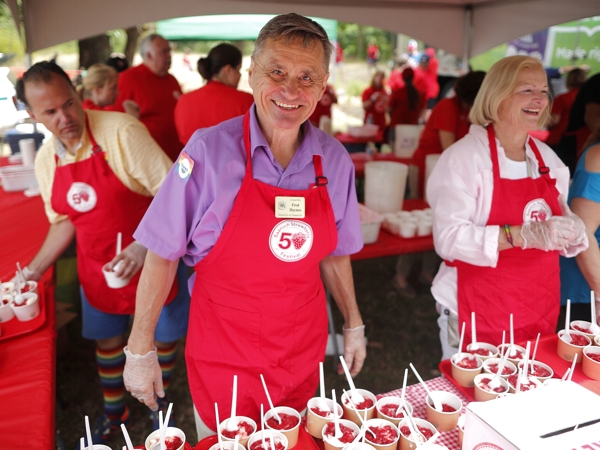 Saanich Strawberry Festival
Sunday, July 7, 2019
11:00 am - 3:00 pm
Free Admission
Strawberries and Ice Cream tickets: 50 cents/ticket
BEAVER LAKE PARK
From its start as a celebration of Saanich's agricultural roots, the Strawberry Festival has blossomed into a grand event for all ages. Enjoy a wide variety of free family activities, including information displays, face-painting, program demonstrations, a Martial Arts demonstration, arts and craft activities and 12 different types of inflatable games, obstacles, slides and castles.
Bring a blanket and enjoy a day at the beach while a variety of performers entertain on two stages this year.
See the displays & activities maps below (Upper and Lower Levels)
Upper Level Stage Schedule

11:00 am - 12:00 pm Price Tag
12:15 - 1:30 pm Tropic Mayhem
1:45 - 3:00 pm Commodores Big Band
Lower Level Stage Schedule
11:30 - 11:50 am Lkwungen Traditional Dancers
12:20 - 12:50 pm Chinese Culture Dance Victoria
1:30 - 2:00 pm Bollywood Beats
2:15 - 2:45 pm Sanpaguita Dancers
Of course, the afternoon wouldn't be complete without the traditional serving of strawberries and ice cream from 1 to 3pm for only 50 cents!
Strawberries and Ice Cream
Don't miss out on this tradition! The serving of strawberries and ice cream only takes place from 1:00 - 3:00 pm
Tickets for the strawberries and ice cream go on sale at 11:00 am until quantities last at the Tickets Tent near the children's playground on the Upper Level.
Tickets will likely sell out by 2:30 - 2:45 pm so don't wait until the end of the day. Approximately 3800 tickets will be sold.
Cash sales only - there is no ATM (cash machine) located within the park.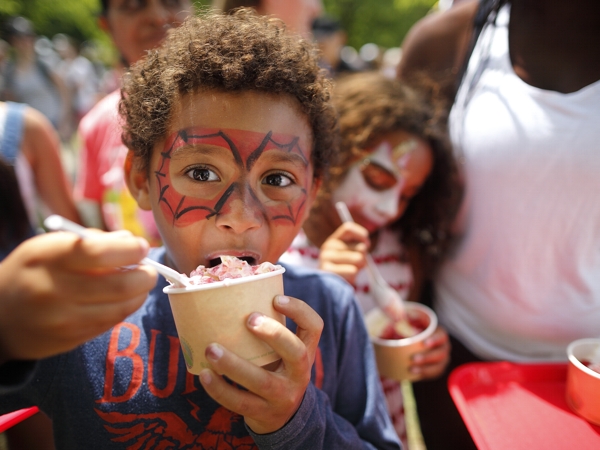 Parking & Shuttle Bus
The Strawberry Festival is a very popular tradition and the main and lower level parking lots will most likely fill up by 12:00 noon. The overflow grass parking area (just off Elk Lake Drive) will be open and two shuttle buses will run from 12:00 noon - 4:00 pm. Shuttle Bus pick-up/drop off locations will be at:
Saanich Commonwealth Place (please use transit to get to SCP)
near the grass overflow parking area
the entrance to the upper level parking lot
Avoid the busy parking lots and Take BC Transit
The Royal Oak transit exchange is a short distance from Commonwealth Place. Leave the car at home and jump on the shuttle bus from Commonwealth Place.
Activities and Particpating Organizations
Map - UPPER LEVEL - Activities and Displays [PDF - 209 KB]
Map - LOWER LEVEL - Activities and Displays [PDF - 212 KB]
UPPER LEVEL - Activities and Displays (map)
1 Gordon Head Lions - SnoCones and Cotton Candy
2 Rotary Club Concession - Burgers & Hot Dogs
3 Country Crapes
4 CRD Parks
5 CRD Environmental Services
6 Saanich Fire Department
7 Main Entertainment Stage
8 Ticket Sales Tent
9 Ice Cream Serving Tent
10 MEDIX - First Aid
11 Saanich Emergency Preparedness
12 CIBC Run for the Cure
13 Alzheimer Society
14 Canadian Blood Services
15 Saanich Volunteer Services
16 CRD Clean Air
LOWER LEVEL - Activities and Displays (map)

17 Face Painting by Saanich Parks & Recreation
18 Saanich Information Booth
19 Kaleidoscope Theatre for Young People
20 Victoria Child Care Resource
21 Victoria Hapkido demonstration area
22 Obstacle Course #5 by Fun-Time Inflatables
23 Happy Face Bouncer by Fun-Time Inflatables
24 Obstacle Course #4 by Fun-Time Inflatables
25 Obstacle Course #3 by Fun-Time Inflatables
26 Basketball Bungy Run by Fun-Time Inflatables
27 Medix - First Aid
28 CFAX - Virgin Radio 107.3
29 KidsFUNd Concession
30 Mini Donuts by Noel
31 Concession Area Seating
32 Greek on the Street - Concession
33 Lower Level Entertainment Stage
34 Island Savings - Face Painting
35 Pacific Institute of Sport Excellence
36 Strawberry Vale Pre-school
37 Swan Lake Nature Sanctuary
38 Inflatafun - Foot Golf
39 Inflatafun - Princess Carriage Bouncer
40 Inflatafun - Four Person Joust
41 Inflatafun - Mega Slide
42 Inflatafun - Super Slide
43 Inflatafun - Extreme Obstacle
44 Inflatafun - Leap Ball
Media Sponsors