Due to the on-going global COVID-19 pandemic, the District of Saanich will host a closed Remembrance Day Ceremony this year. The public is invited to watch a livestream of the ceremony on Saanich's Facebook page. The confined viewing area around the Saanich Cenotaph does not allow for safely distancing guests so we are planning a scaled back ceremony to mark the occasion. There will be no crowd present during the event and community groups looking to lay a wreath will be asked to do so following the ceremony at a designated time. A limited number of wreathes will be placed during the event.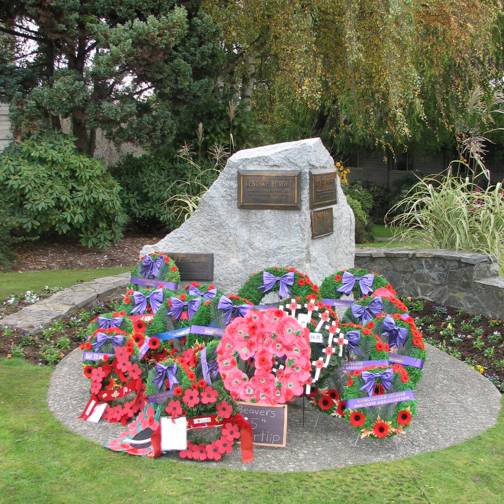 Every year on November 11 Canadians pause in a silent moment of remembrance for the men and women who have served, and continue to serve, our country during times of war, conflict and peace. More than 1,500,000 Canadians have served our country in this way, and more than 100,000 have died. They died for us, for their homes and families and friends, for a collection of traditions they cherished and a future they believed in; they died for Canada. They gave their lives and their futures so that we may live in peace.
If your organization would like to lay a wreath, please contact the event coordinator Rob Phillips by email.