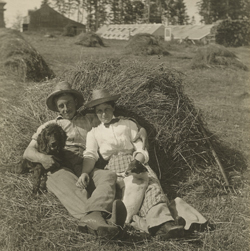 Saanich Archives presents an exhibit of photographs and archival documents celebrating canines in the municipality.
From service dogs to family pets, this exhibit will highlight some of the contributions our four-legged friends have made to Saanich's history - from the early 1900s through the 1960s.
Photo: Henry and Caroline Dunn and their dogs on their farm at Glanford and Kenneth (Saanich Archives 2016-008-001).