Let's plant together for the future!
Help us grow our urban forest this National Tree Day. We have more than 150 tree seedlings we are giving away - so pick up a tree, plant it in your own yard and post a picture for our community to experience virtually. This is all a part of our Natural Intelligence campaign. Sign up now to receive a tree.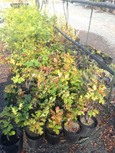 Pick up is by registration only for pick up on September 21, 2020. There is a limited supply of each species available. We have the right to limit the # of trees per household. These are meant for planting on private property.
All trees to be picked up at Glanford Park in the parking lot off Kenneth St. You must be registered to receive a tree.
Review information on selecting the right tree for your property off our website. Learn about the trees available further down on this page...
When you plant your tree, if you can take a picture and post it via your social media accounts and tag #SaanichParks and #NaturalIntelligence. Show us how you have helped support our urban forest on National Tree Day!
Trees available:
Garry oak (50 available)

Drought tolerant, it will prefer full sun. Great glossy green foliage color. Long-living tree, up to 400 years. Interesting irregular growth habit with a broad and round crown consisting of many thick gnarled twisting branches (usually covered by moss). Wood is hard, strong and heavy. The acorns are sweet and edible and an important source of food and habitat for wildlife. Garry oak ecosystem have been deemed endangered. This is an iconic tree native to the Saanich Peninsula.

Western Red cedar (50 available)

Large native conifer. Will prefer well drained moist soil. Can tolerate part shade and is able to reproduce under a dense shade canopy. Will prefer full sun. Intolerant of dry conditions. This is a long-living tree that can reach important size at maturity. The deep green foliage is very ornamental and aromatic. Great for big open spaces.

Douglas fir (25 available)

Large long-living native tree that prefer full sun location. Douglas fir has an aggressive shallow root system and can tolerate growing in shallow rocky soil. Fast growing. Douglas fir are the second-tallest conifer in the world and can reach imposing dimensions. This iconic tree of the West Coast Pacific is suitable for large open area with plenty of space to develop to maturity.

Sitka Spruce (50 available)

Large conifer suitable for planting on large properties away from buildings. Has a shallow root system and likes a wet climate.
COVID-19 protocols will be in place. This give away is only available for those who register in advance. Tree give away will be staged in the parking lot at Glanford Park. Participants must follow the marked path to the far right of the parking lot. By providing your name and tree type, a team member will hand over your tree(s). Please note: participants must stay in their vehicle. For those who travel to the park by bike, foot or other method, we will have a separate table set up in the parking lot where you can approach our team and they will safely hand over your tree.