Join us at the new outdoor nature area affectionately called Tinker Town. This is in Mount Douglas Park just a bit north of the beach parking area.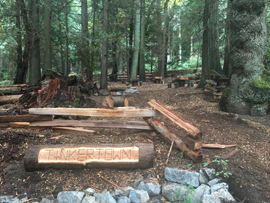 We will plant 12 Western Red Cedars (5-6 footers) and 5 Big Leaf Maples (10-12 footers) celebrating National Tree Day. We have chosen this site to also officially open a new outdoor nature education area in Mount Douglas Park: Tinker Town.
This site was cleared of underbrush and with logs added for seating to provide a small classroom like setting. We are assisting nature preschool groups as part of our Natural Intelligence initiative to use this site. The goal is to improve youth's understanding and appreciation for natural areas.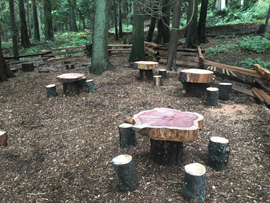 We hope you can come watch or even help! We anticipate more shrub planting will happen in this area over the late Fall/winter.
Wednesday, September 25, 2019
10 to 11:30 a.m.
Tinker Town, Mount Douglas Park (just north of beach parking lot). Best to go to the beach parking area, and walk up towards area as shown on the map below.