Monday, February 18, 2019
11:00 am - 3:00 pm
Cedar Hill Recreation Centre
Free Admission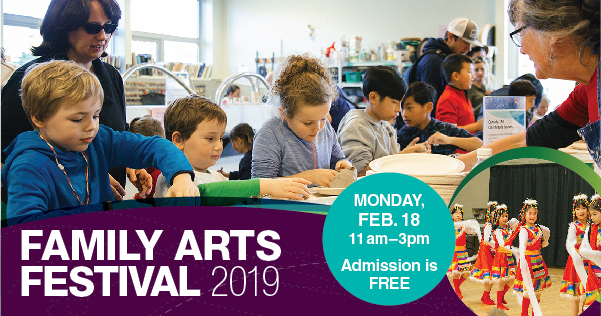 Celebrate Family Day at The Arts Centre!
This free family event is a celebration of imagination, creativity and discovery. Kids of all ages will enjoy a wide variety of activities led by Arts Centre staff and guests from Greater Victoria's arts community.
Explore the world of visual arts, dance, music and theatre through hands-on stations and performances.
Entertainment Schedule

11:00 AM Chinese Dance Victoria
11:45 AM Magic Show
12:30 PM Shan-e-Punjab Dance School
1:15 PM Campus View Tone Chimes
1:45 PM Veselka Ukrainian Dancers
2:15 PM Lekwungen Traditional Dancers
Victoria Conservatory of Music
Musical Petting Zoo from 11:00 am - 1:00 pm
Performances:
1:00 - 2:00 PM Classical Duo
2:00 - 3:00 PM Fiddler Duo
Paul's Magic Show starts at 11:45 am
Chinese Dance Victoria performs at 11:00 am
Media Sponsors