ECO Program Open House
Children belong outside! Connecting through nature-based learning helps kids foster a sense of wonder and curiosity about the natural world around them.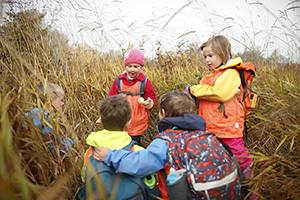 That's what the ECO (Educating Children Outdoors) preschool program is all about.
Learn more at an open house on Saturday, June 25, 2022 from 10:00 am
to 12:00 pm, at Swan Lake Nature Sanctuary. The ECO Program has spaces are available this September through next June for kids
3 and 4 years-old.
Registration for the open house is not required.
For more information, please contact Jen Poitras, Program Technician at 250-475-7113 or by email, jen.poitras@saanich.ca