Did you know we are looking to refresh Horner Park [PDF - 166 KB] in 2020?
Drop in to view concept plan options for the park and share your ideas!
Where: St. Aidan's Church, 3703 St. Adian's Street
When: Monday, December 2, 2019
Time: 3:30 to 7 p.m.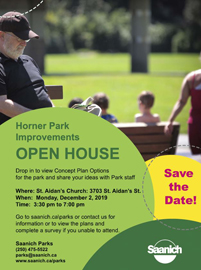 Horner Park is located just off Cedar Hill Cross Rd and Iona Dr.