In Saanich, residential buildings account for 17% of our community's greenhouse gas (GHG) emissions, or nearly 90,000 tonnes of GHGs per year.
Helping residents improve the efficiency of their homes through energy retrofits improves comfort, affordability and longevity of Saanich's buildings, while also contributing to Saanich's goal of becoming a 100% renewable energy community by 2050. There are many ways you can make your home more efficient, such as adding insulation or replacing your oil heating system with a high efficiency heat pump. Check out our Climate Plan Backgrounder on Buildings for more information on how your home can be part of the solution.
Then, read on to see what special offers may be available to Saanich residents that can help you with important energy upgrades to your home!
CleanBC Better Homes and Energy Coach Service
CleanBC Better Homes is BC's online hub for homeowners to access information, incentives and support to reduce energy use and carbon pollution in new and existing homes. Right now there are tens of thousands of dollars of rebates available across a wide variety of retrofits, so use this step-by-step Rebate Guide to get started, or check out the Rebate Program Table for a summary of all the rebates available!
A free Energy Coach Service is available through a phone and email hotline if you have questions about specific rebate programs, home energy upgrade options, EnerGuide home evaluations, or if you just don't know where to start. Contact the free Energy Coach Service at 1-844-881-9790, ask@betterhomesbc.ca or visit Betterhomesbc.ca
Switch to a Heat Pump: Up to $3,700 for Saanich Residents

CleanBC Better Homes is now offering rebates of up to $3,700 when you upgrade from an oil, natural gas or propane heating system to an electric heat pump; this includes $350 in "top-ups" from both the District of Saanich and the Capital Regional District to switch from a fossil-fuel based heating system to an energy efficient air-source heat pump.
For more information, visit CleanBC Better Homes or call 1-877-545-6247. The offer is available until September 28, 2020 or until funding is exhausted.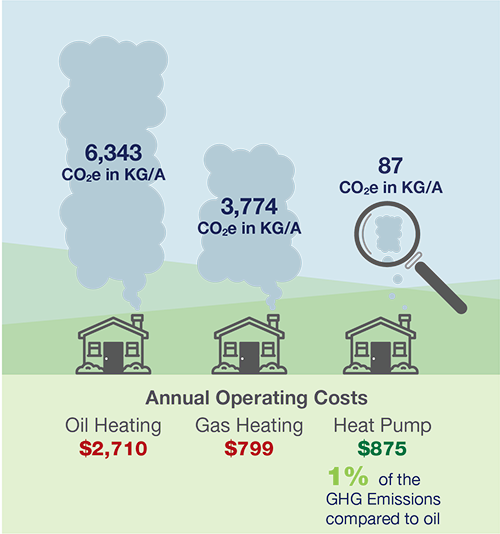 View the full poster [PDF - 117 KB] and two page brochure [PDF - 176 KB].
Why make the switch?
If switching from oil, you will save between 40 – 75% on your energy bills each year; homes switching from natural gas will have similar energy costs with a heat pump.
Dramatically reduce your home's greenhouse gas emissions.
Get comfortable and cost effective heating and cooling all year round.
Improve indoor air quality with a heat pump's air filtration system.
If switching from oil, you will eliminate the risk of a costly oil tank spill to your property and the environment.
CleanBC Better Homes is funded and administered by BC Hydro, FortisBC, the Province of BC and many local governments to provide $24 million to help people save energy and reduce their environmental footprint.
For resources and incentives for commercial, institutional, and multi-unit residential buildings, go to CleanBC Better Buildings at BetterBuildingBC.ca.