Find out about upcoming and past events shaping Saanich's Climate Plan update!
Upcoming Events
Stay tuned for upcoming events by joining the enews list.
Past Events
Phase 2 Engagement Summary
Thank you to all those who participated in the second phase of engagement through attending a workshop, open housem or presentation, completing a survey, submitting recommendations, or speaking with Saanich staff at community events.
Feedback received in the second phase of engagement will be used to inform the development of the draft plan to be presented in the third and final phase of engagement in fall 2019.
The grand draw prize winner for Phase 2 Engagement is Sheila, a Saanich resident who is looking forward to getting back on her bike!
Phase 2 Engagement Events
Thanks for stopping by the Gorge Canada Day picnic!
Phase 2 Saanich Climate Plan Public Open Houses
Thank you to those who attended the Phase 2 Open Houses to help shape the updated Saanich Climate Plan.
- Thursday, May 30th at Gateway Baptist Church, 4pm - 8pm (child minding available this date only)
- Saturday, June 1st at Lutheran Church of the Cross, 10am - 2pm
View Phase 2 Engagement Materials here:
Phase 1 Engagement Summary:
Thank you to all those who participated in our first phase of engagement throughout 2018 – we were delighted by the attendance at our open houses and workshops, the number of surveys completed and the valuable input to the development of the plan from all involved.
Feedback received in the first phase of engagement and this will be used to inform the development of draft strategies and actions to achieve both the climate targets and to address the projected climate changes for the region. These draft strategies will form the basis of a second phase of engagement in Spring 2019.
You can view the Phase 1 engagement materials here:
The prize draw for Phase 1 survey, gift certificates at a local bike store, has been awarded to Saanich residents John and Bernice who have cycled for many years, and have many young cyclists in their family.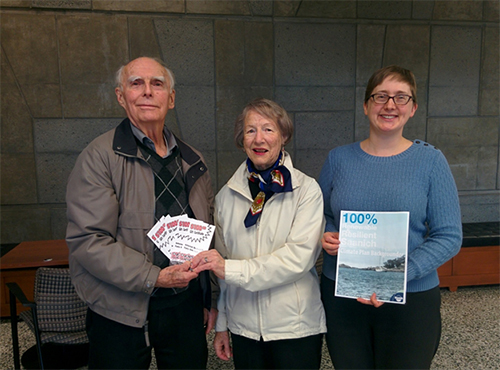 Past Events:
Fall 2018 Free Public Workshops
Thursday, November 29th
Saturday, December 1st
These well-attended free events included an Open House, Interactive Workshops on Mitigation (reducing our climate impact) and Adaptation (responding to a changing climate), and tours of the renewable energy upgrades at Gordon Head Recreation Centre.
Saanich Talks: Our community in a changing climate
Our kickoff event was Saanich Talks: Our Community in a Changing Climate on Monday, May 7th. Thanks to everyone who came out! For those that missed it, here are the presentations from our fabulous speakers.
Dr. Thomas Pedersen: Saanich, Climate Change Impacts, and Opportunities [PDF - 4 MB]
Dr. Nancy Turner: "Keeping all the Pieces": The importance of Biodiversity in Saanich at a time of Environmental Change [PDF - 7 MB]
Dr. Jennie Moore: Saanich's 'Footprint' and what we can do about it [PDF - 1000 KB]
One Planet Saanich
Wed, June 20th
An Evening of One Planet Storytelling with Pooran Desai.
Monday, July 16th, 2018 - Creating a One Planet Community - Special Livestream Event
2018 Community Festivals
Visit your utility provider (FortisBC or BC Hydro) at community events to learn about programs and offers.