The home owner grant can be claimed:
If you do not have a copy of your property tax notice, please contact us for a copy.
To claim your grant online, you will need your folio and access code, located on your property tax notice as shown below.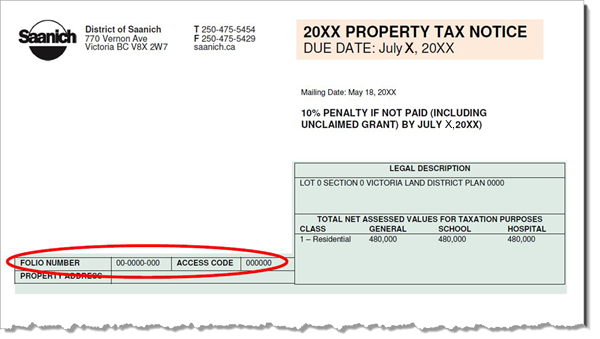 Apply every year
Remember to claim your home owner grant each year. We must receive the grant application on or before the tax due date so that you can avoid penalty.
If you pay your taxes through your mortgage, pre-authorized payment plan or deferment, you still need to submit your grant application to us each year by the tax due date.
Do not claim your grant at the bank
If paying your property taxes at the bank, do not leave your home owner grant application with the teller. You must directly submit the grant application to Saanich.