Noxious Weeds Bylaw Revision Objectives
We want to broaden the bylaw to consider current issues like: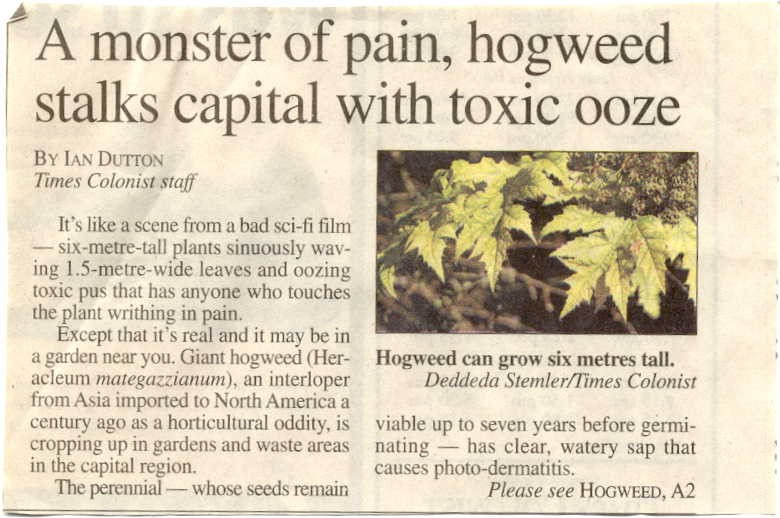 We also want to
Align the bylaw with the goal, strategies and actions of the Invasive Species Management Strategy. [PDF - 592 KB]
Update and align the bylaw with provincial legislation.
Increase the use of proper techniques for removal and disposal.
Address enforcement, compliance and administrative issues.
Bylaw Revision Process
2013
Informed residents of the need to change the bylaw.
Identified issues and priorities from all stakeholders.
Obtained ideas from the general public and community groups.
Researched and consulted with Saanich departments and external agencies.
Held an open house and a public survey.
2014:
Staff brought forward the results of public input, research and consultation for discussion and feedback at two open houses.
In the future
Staff will give Council a report proposing revisions to the bylaw and a bylaw administration policy. There will be chances for more public input including the Committee of the Whole and Public Hearing meetings.
If you did not get a chance to attend an open house, you can still visit the virtual open house.
Survey Result Highlights
We received 250 responses.
Most respondents live in Saanich and consider themselves somewhat informed about weeds in Saanich.
Most respondents supported some municipal assistance to landowners as well as variable enforcement options based on impact.
The top three priorities based on impacts are weeds that:
Threaten natural areas and habitat.
Can harm people.
Threaten agriculture.
The top three priorities for management are:
Weeds that are fairly new to Saanich and could be eradicated.
Keeping new weeds out of Saanich.
Weeds that can only be controlled in priority areas.
The top four priorities for action based on locations are:
In or next to rare and endangered ecosystems and habitat.
In or next to waterbodies and wetlands.
In or next to parks.
In or next to forested areas.