Housing Strategy Endorsed by Council
Saanich has undergone a 13-month process to develop a Housing Strategy which included both community consultation and comprehensive recommendations from the Housing Strategy Task Force.
The Housing Strategy [PDF - 13 MB] was presented at the Council meeting on August 23, 2021 and has been endorsed by Council, in principle. The Council Agenda and Video of the meeting can be accessed here: Council Agenda and Video.
A supplementary report, on the financial implications of the Housing Strategy, will be presented to Council in January 2022. Updates will be posted here once staff are ready to provide Council with the supplemental report.
The Housing Strategy provides direction on how the municipality plans to contribute to improving housing opportunities and outcomes and address the urgent need to increase housing supply, diversity, and affordability.
Stay tuned and check back for more updates as this project continues to move forward!
Saanich Housing Strategy Survey
The second Housing Strategy survey closed on April 30. Thank you to everyone who participated in the survey and provided written feedback on Task Force recommendations [PDF - 2 MB]. Your input helped inform development of a Proposed Housing Strategy, which was presented to Council in August 2021.
A total of 1,544 people used the survey tool [PDF - 791 KB] to provide input and feedback on the Housing Strategy. A summary of the survey results [PDF - 3 MB] is available for review. A full inventory of the survey responses and comments received can be found here [PDF - 3 MB].
Congratulations to our survey draw winners! $100 gift cards were sent to four survey participants. Thank you again to everyone who participated in the survey.
If you have any questions about the Housing Strategy, please email nadine.kawata@saanich.ca.
How to Receive Updates
Please register here to sign up for our email notification list for the latest news, updates, and opportunities to participate in the Housing Strategy.
Task Force
The Housing Strategy Task Force recently completed a report with recommendations to improve housing affordability, choice, and supply in Saanich. The report was presented to Council on March 22 and the public survey on the recommendations was open from March 23 to April 30. Learn more about the Task Force.

Project Background
With an objective to foster healthy, inclusive, equitable, and affordable housing opportunities, the 10-year strategy aims to improve housing outcomes and support residents of all ages, incomes, and abilities through housing actions. The strategy will set a framework to implement and prioritize action-oriented strategies, providing guidance for Council decision-making. In addition, it will promote the advancement of partnerships and enhance community awareness of housing issues and opportunities.
The project Terms of Reference [PDF - 372 KB] identifies the process, scope, and timeline for development of the Housing Strategy and role of a Task Force in creating the Housing Strategy.

What is a Housing Strategy?
A housing strategy outlines the approach a municipality plans to take in response to the community's unique housing needs. These strategies typically address the full range of housing options from social housing and below-market housing to market rental and home ownership.
Housing strategies are unique to each municipality and local housing strategies differ depending on factors such as local market conditions. Larger municipalities, like Saanich, have the capacity to develop detailed strategies that identify and prioritize multiple policies, initiatives, partnerships, and programs to improve housing.
How is Saanich's Housing Strategy being developed?
In order to address existing and future housing needs, Saanich's Housing Strategy will set strategic direction over the next 10 years and establish 3-year priority actions. Existing housing policies and initiatives that address housing supply, diversity, and affordability will be considered for alignment and integration in the development of the strategy.

A more detailed breakdown of the scope of work for the Housing Strategy can be found in the Terms of Reference [PDF - 372 KB].
COVID-19 Context
In response to the COVID-19 pandemic, a public engagement strategy was developed using creative solutions in order to achieve meaningful engagement. In an effort to adhere to directives from public health authorities, online public engagement has been utilized.
Understanding Housing Needs
A Housing Needs Report that identifies housing conditions and projected needs was recently completed for Saanich and the Capital Regional District. The assessment provides foundational information that is being used to inform the development of the Housing Strategy.
Why now?
One of the fundamental elements of creating and maintaining a healthy, inclusive, and sustainable community is the provision of a range of housing types that can accommodate people of different ages, incomes, household structures, and physical and social needs. Working towards a diverse and affordable housing stock is also an important foundation for supporting growth and responding to changes in population and housing trends.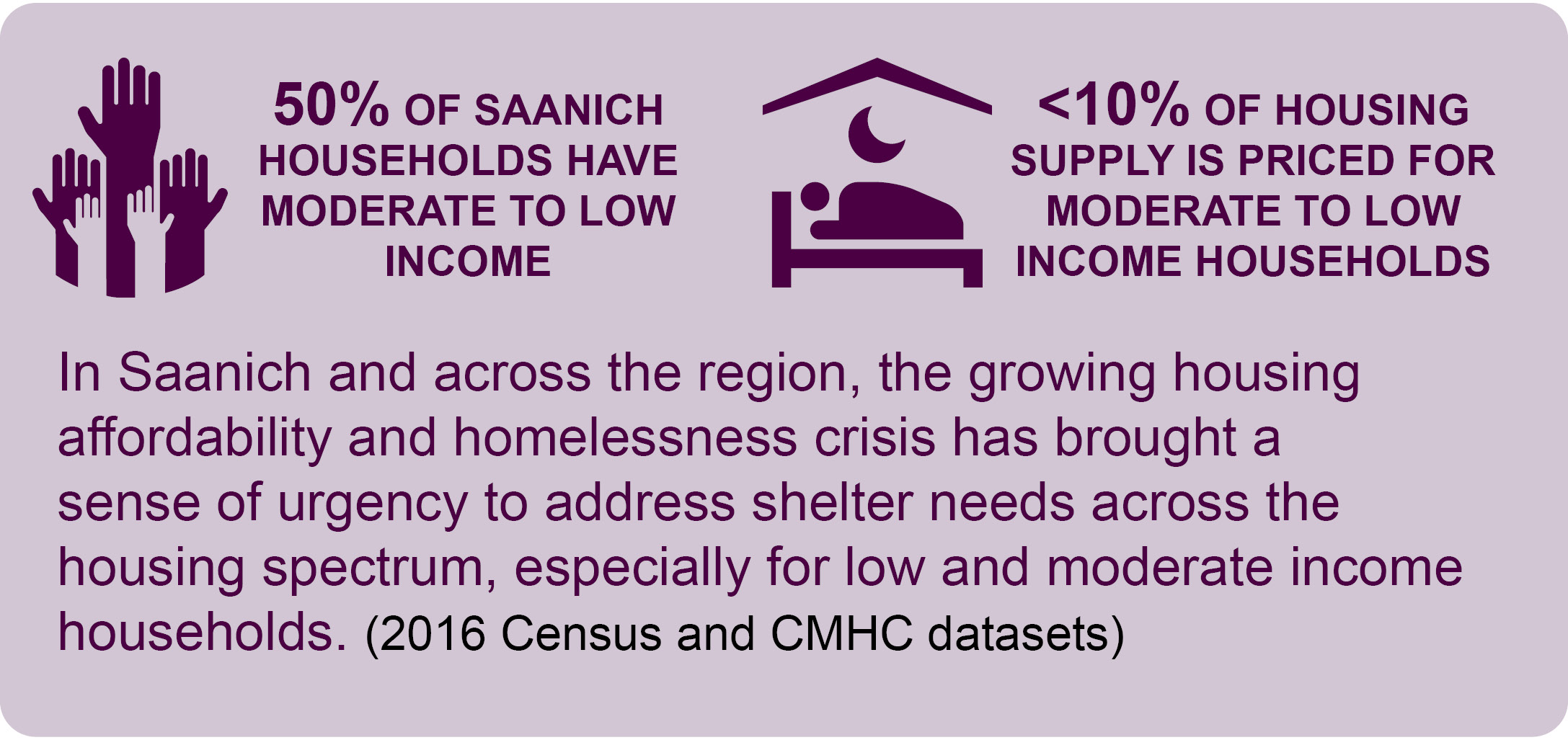 Housing Spectrum
The housing spectrum is a visual reference used to categorize and describe the full range of temporary, non-market and market housing types from emergency shelters to homeownership.
Increasingly complex housing issues impact a wide range of household structures, ages, and incomes. In Saanich, housing affordability challenges are evident with 40% of renters and 17% of homeowners paying more than 30% of their income on housing costs. Affordability has been impacted by rising housing prices and an insufficient supply of housing to meet current and future needs for adequate, suitable, and affordable housing. Expanding housing choice and affordability, encourages the development of diverse, liveable neighbourhoods near transit and within walking distance of parks, schools, and other amenities.
Why is it important?
In the face of complex housing challenges, comprehensive local housing strategies serve several key purposes:
Coordination - housing strategies provide a framework that brings together a variety of market and not-for-profit development professionals, social service providers, policy makers, and government officials in a coordinated and strategic attempt to tackle local housing challenges. This can help ensure coordination, cooperation, and partnerships from agencies responsible for creating a variety of housing options, as well as with those who are not directly responsible for housing, but whose cooperation is critical - for example education, transportation, parks, utility providers, and municipal departments. This coordination is essential to the seamless implementation of the housing strategies.
Education and public engagement - through the development of the housing strategy staff will engage with stakeholders and the public in a variety of ways. One of the key elements to the engagement strategy is education. This will help define and demonstrate housing needs, opportunities, and strengths, while also establishing shared objectives. Establishing shared objectives and highlighting housing needs may also help combat community resistance to individual affordable housing developments as residents may appreciate how these proposed developments contribute to the Housing Strategy's objectives and foster healthier, more diverse communities.

Accountability and predictability - a comprehensive strategy that outlines the goals, objectives, and implementation strategies that can be easily tracked over time significantly increases transparency, predictability, and accountability.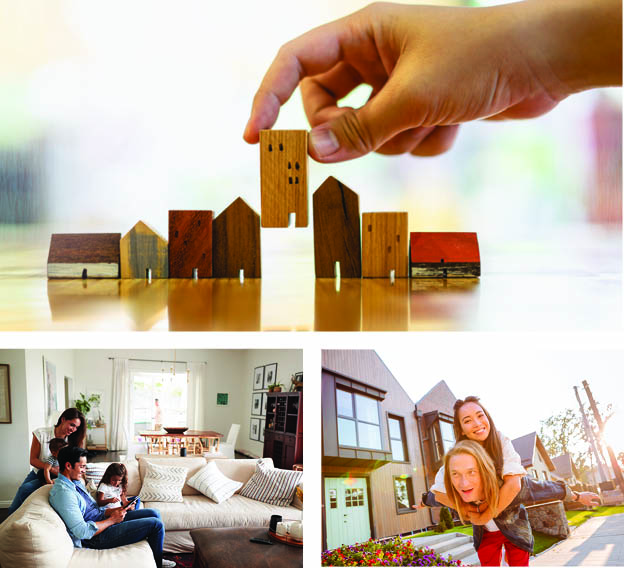 Next Steps
The Housing Strategy Task Force met over the fall and winter to discuss complex housing challenges and develop recommendations for action-oriented strategies designed to achieve greater housing supply, affordability and diversity and accommodate a broad range of community housing needs now and in the future. The Task Force recommendations were presented to Council on March 22 and the public had an opportunity to weigh in on the recommendations through a community survey from March 23 to April 30. The final Housing Strategy will be drafted once feedback is gathered from the public on the Task Force's recommendations. A proposed Housing Strategy will then be presented to Council for consideration.
Links
The data is derived from the 2016 Census and CMHC datasets, unless otherwise stated.