Council to consider Bylaw Amendments to Permit Garden Suites
On August 17, 2020, Council will consider bylaw amendments to permit garden suites in residential areas of Saanich. These bylaw amendments are based on the regulatory framework that was endorsed by Council on October 21, 2019.
Should this recommendation be approved, a Public Hearing would then be scheduled to allow further public input on the bylaw amendments. Final approval to adopt the bylaws would be made at the Public Hearing. If granted, the adoption of the bylaw amendments would enable formal enactment of the regulations.
The staff report for Council will be available here on August 13, 2020.
Providing Input to Council
You are invited to provide input to Council on the proposed bylaw amendments. You will also have the opportunity to provide input as part of the public hearing, which is required before the bylaw amendments can be formally adopted.
Please note that due to COVID 19 our typical procedures for input have been modified. Here's how to participate:
Email: council@saanich.ca
At the meeting: Register to speak by phone at the Council meeting by 12 p.m. on August 17th by calling 250-475-5501 or emailing council@saanich.ca
Mail: Mayor and Councillors
District of Saanich
770 Vernon Avenue
Victoria BC V8X 2W7
Highlights of Proposed Regulations
The proposed regulations are based on community input and include requirements for the location, size and height of garden suites, as well as aspects of building design such as roof form, windows, lighting and landscaping.
Details of the proposed regulations for garden suites are included in the Virtual Open House display boards.
Highlights of the proposed regulations include:
Garden suites would be permitted on all RS zoned lots inside the Sewer Service Area, subject to regulatory requirements
Garden suites would be permitted as an alternative to secondary suites (not both on the same property)
Garden suites would be permitted in the rear yard, with the potential for variances to consider other locations on the lot
Garden suites would be regulated based on three lot size categories:

Small lots (400 – 559 m2)
Medium Lots (560 – 999 m2)
Large Lots (1000 m2 +)

The maximum garden suite size permitted would be 46.5 m2 (500 ft2) on a small lot, 65 m2 (700 ft2) on a medium lot and 93 m2 (1000 ft2) on a large lot
The size of garden suites and other structures would also be limited by maximum lot coverage and setback regulations
Garden suite height limits would allow smaller buildings on small and medium lots and larger buildings on large lots
Owner occupation in the primary dwelling or garden suite would be required
Design guidelines [PDF - 33 MB] would guide building and site design
Revised accessory building regulations are also being proposed that align with the proposed regulations for garden suites. The proposed regulations for accessory buildings seek to limit their size and prohibit their use as dwellings.
Regulatory Framework
A proposed regulatory framework for garden suites was endorsed by Council on Monday, October 21, 2019. Formal bylaw amendments have been drafted based on this framework.
Stay informed!
Register to our notification list for updates. You will receive updates by email when there are opportunities for public input or when this subject will be considered by Council.
Project timeline
We are now in Phase 5 - the final phase of the Garden Suite Study. Council endorsed the proposed regulatory framework on October 21, 2019. Staff are now working to prepare the formal bylaw amendments. Readings by Council and a Public Hearing will be scheduled in the future.
Phase 4, in which the proposed regulations were released for public review, is complete.
In Phase 3 we continued the exploration of ideas and issues for potential regulations for garden suites that was started in Phase 2. We received 711 responses to Community Survey #2 and we talked to over 150 people at information displays set up at three music-in-the-park events in July.
Phase 2 marked the beginning of our engagement with the public and stakeholders to learn more about their interests and concerns, and to test different ideas for potential regulations for garden suites. We hosted two open houses and six pop-up and information displays. We also launched two surveys and received a total of 1,964 survey responses.
We initiated the project in Phase 1. Staff worked behind the scenes to complete background research to inform discussions about garden suites in Saanich.
Background
A garden suites is a detached house that is in the rear yard of a single family lot. It is accessory to the primary dwelling. Garden suites are also known as backyard cottages, laneway houses, carriage houses, coach houses, accessory dwelling units, secondary dwelling units, and detached accessory dwelling units.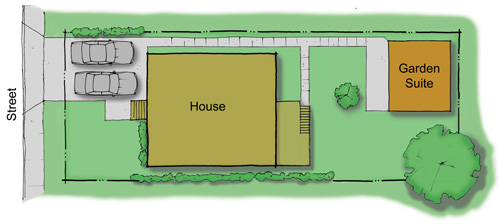 Garden suites are currently not permitted in Saanich. However, there has been growing community interest in having a garden suite to help offset a mortgage with rental income, house a family member, or provide an accessible living situation.
On September 11, 2017, Council adopted a Terms of Reference for a study to explore potential regulatory changes to permit garden suites. The study will take approximately 12 months to complete and will involve lots of opportunities for public input.
Documents and reports
Open houses (May 2019)

Council Reports
Public Engagement
Open houses (March 2018)

Other documents
Garden Suite Regulatory Changes are Moving Forward