The impact of COVID-19 on Public Hearing
In accordance with Provincial legislation, bylaw amendments to permit garden suites must go to Public Hearing before they can be adopted by Council. A Public Hearing is an opportunity for Saanich residents to share their views with Council on the proposed regulatory framework.
Until further notice, all Public Hearings have been cancelled. Updates to this status will be provided as the situation evolves.
For more information on Saanich's response to COVID-19 visit the Saanich website.
Proposed Regulatory Framework Endorsed by Council
The proposed regulatory framework for garden suites was endorsed by Council on Monday, October 21, 2019.
Staff have prepared the formal bylaw amendments. Readings of the amending bylaws and a Public Hearing will be scheduled in the future. Staff have also prepared the necessary application documents. Once the bylaw changes are formally adopted, we will start accepting applications for garden suites.
At the October meeting, Council also requested that Staff follow up with information on tiny houses and the potential to allow secondary suites and garden suites on the same property. A separate report will be brought forward on these items after the adoption of the regulatory framework.
The full staff report and attachments from the Council meeting are available below.
Highlights of Proposed Regulations
The proposed regulations are based on community input and include requirements for the location, size and height of garden suites, as well as aspects of building design such as roof form, windows, lighting and landscaping.
Details of the proposed regulations for garden suites are included in the Virtual Open House display boards.
Highlights of the proposed regulations include:
Revised accessory building regulations are also being proposed that align with the proposed regulations for garden suites. The proposed regulations for accessory buildings seek to limit their size and prohibit their use as dwellings.
Stay informed!
Register to our notification list for updates. You will receive updates by email when there are opportunities for public input or when this subject will be considered by Council.
Project timeline
We are now in Phase 5 - the final phase of the Garden Suite Study. Council endorsed the proposed regulatory framework on Monday, October 21, 2019. Staff are now working to prepare the formal bylaw amendments. Readings by Council and a public hearing will be scheduled in spring 2020.
Phase 4, in which the proposed regulations were released for public review, is complete.
In Phase 3 we continued the exploration of ideas and issues for potential regulations for garden suites that was started in Phase 2. We received 711 responses to Community Survey #2 and we talked to over 150 people at information displays set up at three music-in-the-park events in July.
Phase 2 marked the beginning of our engagement with the public and stakeholders to learn more about their interests and concerns, and to test different ideas for potential regulations for garden suites. We hosted two open houses and six pop-up and information displays. We also launched two surveys and received a total of 1,964 survey responses.
We initiated the project in Phase 1. Staff worked behind the scenes to complete background research to inform discussions about garden suites in Saanich.
Background
A garden suites is a detached house that is in the rear yard of a single family lot. It is accessory to the primary dwelling. Garden suites are also known as backyard cottages, laneway houses, carriage houses, coach houses, accessory dwelling units, secondary dwelling units, and detached accessory dwelling units.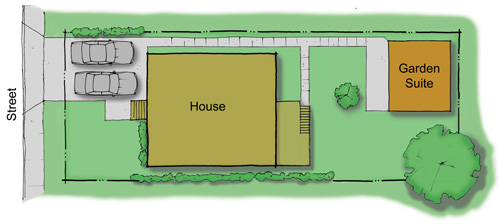 Garden suites are currently not permitted in Saanich. However, there has been growing community interest in having a garden suite to help offset a mortgage with rental income, house a family member, or provide an accessible living situation.
On September 11, 2017, Council adopted a Terms of Reference for a study to explore potential regulatory changes to permit garden suites. The study will take approximately 12 months to complete and will involve lots of opportunities for public input.
Documents and reports
Open houses (May 2019)

Council Reports
Public Engagement
Open houses (March 2018)

Other documents