The project is currently in Phase 3 – Plan Development
Building the Plan workshops were held this fall and winter to explore key issues more deeply and to get your input on policy ideas.
The Housing and Land Use Workshop was held on February 20. For this workshop we discussed policy ideas for expanding housing choices, preserving the character, and planning a vibrant and walkable village.
The Parks and Community Amenities Workshop was held on December 3. Workshop topics were beach accesses and amenities, and ideas for Fowler and Lochside Parks.
The Transportation and Mobility Workshop was held on November 8. Three workshops explored a community vision for improving streets on the Ridge, Lochside Drive, and Cordova Bay/Fowler/Sayward corridor.
On October 3, a Pizza and Planning Workshop was held for those in younger age groups and raising families. This interactive workshop was attended by 70 residents and included a children's activity room. Input from the workshop, along with the great input we've heard so far, will be used to help us identify a vision for Cordova Bay.
On May 24, 25 and 26, a Village Design Workshop was undertaken. This was a creative and collaborative community design process to shape the future of the Cordova Bay village area. The final presentation was attended by 73 community members. See the design workshop video.
Phase 2 - Community Visioning
A report of the results of Phase 2 community engagement is available here [PDF - 13 MB].
At Cordova Bay Day on June 23, 2018, people dropped by to share their ideas for a vision for Cordova Bay and to learn about the plan update. A graphic illustration of vision ideas, community improvement ideas, and issues was created and lots of good feedback was received.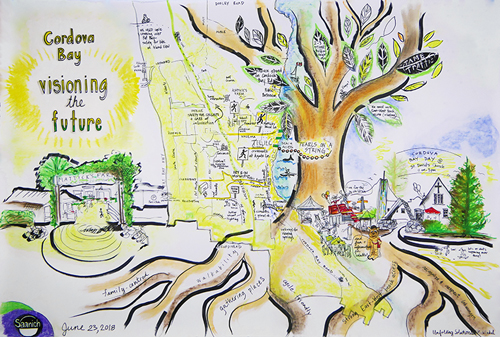 A community survey [PDF - 855 KB] was open from April 28 to May 27, 2018 to get input from residents on a vision for the future, key issues and priorities, areas for improvement, and opportunities. 194 individuals completed the survey on-line, and by paper copy.
Speaker Series # 2, Our Community in a Changing Climate, took place on May 7 at the David Lam Auditorium at UVic. The panel discussion included Dr. Tom Pedersen, Dr. Nancy Turner, and Dr. Jennie Moore and was attended by 120 people.
Community Visioning Open Houses were held on April 28 and May 2, 2018.
Over 165 people attended the "Building Neighbourhoods for the Future" kick-off Speaker Series event with Gordon Price March 21, 2018 at the David Lam Auditorium at UVic.
Phase 1 - Project Initiation
A Baseline Conditions Report [PDF - 31 MB] and Public Engagement Strategy were developed.
An Advisory Committee was established in late January 2018. The role of the 12-member Advisory Committee is to provide advice and local context to the planning team, and support community engagement activities.
Council adopted a Terms of Reference for the Cordova Bay Local Area Plan update in November 2017.