Agricultural Lands
Settlers of the late 1800s and early 1900s changed the forested land of the Saanich Peninsula into one of the oldest agricultural settlements in British Columbia. Since then, Saanich has become a major residential area. Despite this, we maintain an important agricultural base thanks to the Urban Containment Boundary (UCB) concept.
The UCB was created in the late 1960s to:
Control residential growth.
Protect agricultural/rural lands outside it from development.
The UCB protects about 52% of Saanich. The province designates almost 20% of Saanich as Agricultural Land Reserve area. Not all farms in Saanich are in the Agricultural Land Reserve. About 380 properties here have farm status based on the BC Tax Assessment.
Today Saanich is known for close rural/urban connections. Council and Official Community Plan policies support these connections. They also support opportunities for local food production in both rural and urban areas.
Council also supports many projects that help improve our food security:
Community gardens
Community kitchens
Urban backyard agriculture
Agricultural cottage industries
Farmers' markets
Local organic produce and commercial agriculture home delivery
Chickens in residential areas
Agriculture & Food Security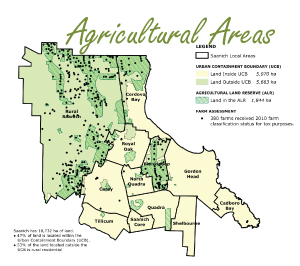 [PDF - 332 KB]
More and more urban residents want improved access to a local food supply and opportunities to grow their own food. They want to:
Know where their food comes from
Ensure we'll have local food available in the case of emergency
Reduce carbon emissions from transportation and food packaging
Support the local economy
Small-scale farmers in Saanich work to offer local food to the area. However, it is hard for many small-scale farmers to balance high expenses with their income. To make their work viable, they want to reduce many barriers:
Global competition
Large corporate farm competition
Rising land prices
Labour costs
Equipment costs
Lack of local food processing available
Transportation and distribution costs
Pest and wildlife management
Aging farmers and lack of young people interested in farming
Urban / rural interface conflicts
Soil enhancement issues
Water management issues