Home-Based Business
What is a Home-Based Business?
A home-based business is one you operate from your home. You may also qualify for an Intermunicipal licence if you are a specified contractor or service provider and you perform a service in more than one community by moving from client to client. Learn more here.
Can I operate a business from my home?
Yes, you can run certain types of businesses from your home. There are some restrictions. To minimize disturbances to surrounding homes, zoning restricts the following:
The type of business activities.
The size of area used.
Parking requirements.
Storage impacts.
The Planning Department will review your business licence application to confirm your business complies with zoning.
Please call the Planning Department at 250-475-5471 with any questions.
All businesses must also comply with Home-Based Business Regulations.
Intermunicipal Businesses
What is an Intermunicipal Licence?
We classify intermunicipal businesses as home-based businesses unless you occupy commercial space.
An intermunicipal business licence allows a Saanich resident, with an eligible mobile business, to operate across these municipalities:
Saanich (East and West)
Victoria
Oak Bay
Central Saanich
North Saanich
Sidney
View Royal
Esquimalt
Colwood
Langford
The Highlands
Metchosin
Sooke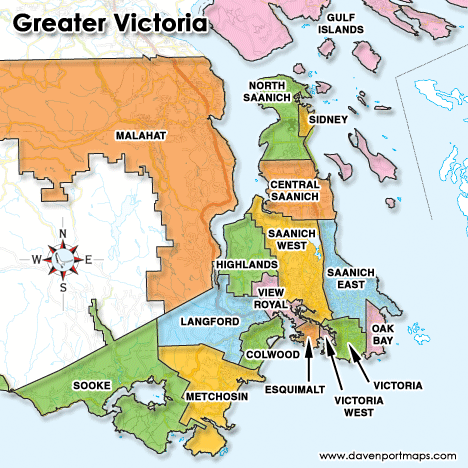 You must apply for a business licence in the municipality where you live or operate your business.
What about commercial businesses that operate in many communities?
Businesses that operate in commercial spaces but also need intermunicipal status may apply for our Intermunicipal with Commercial Location classification.
Fill out our general business licence application.
Describe your business in the nature of business section
Indicate that you also need an intermunicipal licence in this section.
Commercial Businesses
What is a Commercial Business?
A commercial business operates in a commercial building or industrial area and not in a home.
Please contact the Planning Department at 250-475-5471 to ensure that the commercial property works for the business you are planning. You must confirm that the property's zoning will allow your business type. Also make sure it has enough parking.
All commercial properties are in development permit areas. This means they have specific rules for signage, new construction and exterior renovations.
If you plan to renovate, please contact our Inspections Department before starting any work to find out if you need building permits or inspections.