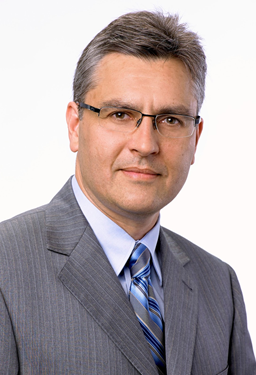 Mayor's Office telephone: 250-475-1775 ext. 5510
Mayor's Office email: mayor@saanich.ca
Education:
Born in the United Kingdom, Richard and his family emigrated to Canada when he was very young. After living in White Rock for several years, the family moved to Kamloops before finally settling in Victoria in 1982 where Richard attended Margaret Jenkins Elementary and Oak Bay High School.
During his last year of high school the family moved from Victoria to Saanich and following that, Richard began studies at University of Victoria.
Richard completed several university co-op work terms at BC Systems in Victoria, Bell Northern Research in Ottawa and BC Hydro in Port Kells and Surrey and it was during this period that he developed a passion for Apple Macintosh software and computers.
Career:
After earning a B.Sc in Computer Science from UVic Faculty of Engineering, Richard drove his Volkswagen Westfalia camper to Austin, Texas, and began work as an engineer at the Metrowerks Corporation working on CodeWarrior (the software development tools for Macintosh).
Metrowerks was eventually acquired by Motorola and after five enjoyable years in Austin, Richard left Metrowerks/Motorola for Apple, Inc. to join the iPod & Special Projects team as a member of a small group responsible for the user interface of the early iPod music players.
Community Work:
After returning to Canada, Richard resettled in Saanich choosing the Falaise neighbourhood in between the Royal Oak and Broadmead communities.
He set out to become more involved with community by volunteering as a Director of the Falaise Community Association (FCA) and he began attending Council meetings on behalf of the association.
Through the Falaise Community Association, Richard discovered the Saanich Community Associations Network, where he was introduced to the many associations and community leaders within Saanich, broadening his understanding of local Saanich issues.
Advocacy:
During 2012, Richard became aware of the serious failings of the capital regional sewage project and the impact that it would have on the region at large.
Richard embarked on a personal research project to raise public awareness and in 2013, he joined the Sewage Treatment Action Group (STAG) as a Director and together, registered the organization as a B.C. registered non-profit society to advocate for public and taxpayer interests as a watchdog group and to continue research into viable alternatives.
During this period, Richard spent significant time researching and reading CRD technical reports, attending and presenting at Core Area Liquid Waste Management Committee (CALWMC) meetings, in addition to hosting regional information forums, and reporting to the public through the media.
2014 Election:
Campaigning on a comprehensive platform, Richard was elected Mayor by the citizens of Saanich on November 15, 2014. In addition to his council role, he also sits as a Director on the CRD Board and Core Area Liquid Waste Management Committee as well as a voting member on the Victoria Regional Transit Commission (VRTC).
Leadership and Vision:
Richard's career with Apple and Motorola granted him an opportunity to work under very successful business leaders.
He models his leadership style after the visionaries who understand that only by innovating, developing best practices and using a collaborative approach, can desirable outcomes be achieved that benefit the community at large.
Mayor Atwell's goal is to build a vision for a modern community where the citizens of Saanich will thrive, where businesses can grow and where neighbourhoods will flourish through open and transparent government employing comprehensive community consultation and empowerment.
Approach:
There are four guiding principles at the heart of his approach for achieving the highest quality of life in Saanich:
- To be respectful of residents,
- To strive for innovative solutions,
- To bring about progress in a taxpayer friendly manner, and
- To protect agriculture and the environment, and enhance the natural beauty of Saanich.
Major Initiatives:
On April 13, 2015, Mayor Atwell and Council enacted a new procedures bylaw, bringing forth a new era of open government allowing for greater inclusion and opportunities for public participation not only for residents but for all citizens passionate about regional issues.
The #1 safety and transportation issue for Mayor Atwell identified during the election campaign continues to be the Trans-Canada Highway intersection at McKenzie/Admirals. This project is now finally in the planning and community consultation phase, with funding commitments from the Federal and Provincial governments.
Mayor Atwell also pledged to increase membership for student unions on the VRTC and the University of Victoria Student Society (UVSS) and Camosun Students Society (CSS) now share a non-voting seat on the commission.
On December 7, 2015, the property at 1516 Mt. Doug X-road (aka "The Alberg Farm") was rezoned by Saanich council after several years of tension and disruption in the neighbourhood after employing a diplomatic approach that brought together all pertinent facts with the concerns and needs of the majority of stakeholders.
Commitment:
Saanich has been Richard's home for eighteen years and he is very passionate about its' future.

In his own words, "I am absolutely committed to working with citizens and local organizations to help make Saanich the best place to live where we can enjoy the highest quality of life and leave behind a genuine legacy for future generations."
Mayor Atwell continues to serve the citizens of Saanich and approaches his job as an advocate for both Saanich and the Capital Region.