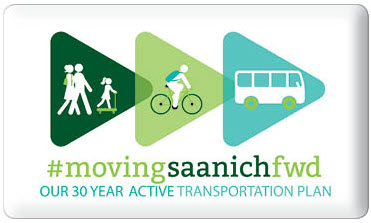 Take our quick survey today!
Please fill out this survey by January 24, 2017 and tell us about issues and opportunities for walking and cycling in Saanich.
To launch the public engagement process, we are inviting residents to take a few minutes to complete our Moving Saanich Forward survey. Why? We want to learn why active transportation is important to you and what would encourage you to use active mobility options more often.
Do you have ideas for making Saanich a better place to walk, roll and ride bikes? Get involved:
Take our survey on now until January 24, 2017.

Come to one (or more!) of our community engagement events. The Moving Saanich Forward team will also be out in the community throughout 2017, hosting a variety of events and activities as we explore how to improve and expand walking, cycling and other active mobility options in Saanich.

Let us know your thoughts via our feedback form.
Check back for updates on this exciting project. Don't forget to use #movingsaanichfwd when you're visiting our Facebook and Twitter pages.
Survey information: Personal information, consisting of IP address, is collected when responding to this survey in accordance with the Freedom of Information and Protection of Privacy Act. The IP address will not be used for any purpose. This survey is voluntary and a response is encouraged, not required. Please do not provide any third-party information (i.e. talk about others) and/or any personally identifiable information about yourself in your responses. Questions can be directed to the District's Privacy Officer at: 770 Vernon Avenue, Victoria BC, V8W 2W7, T. 250 475 1775, E foi@saanich.ca.