Join Saanich staff to learn more about the Garden Suite Study and to share your interests and concerns. Your input is important. It will be reviewed by staff and used to inform potential regulations.
Here's how you can get involved:
1. Survey
Take the Garden Suite Study survey It's open until April 15, 2018.
Paper copies of the survey are available at Saanich Municipal Hall (770 Vernon Ave) and at pop-up displays (see below for details).
2. Pop-up displays
Saanich staff will be hosting information displays:
Wednesday, March 28, 2018
9:00 a.m. – 12:00 p.m.
Cedar Hill Recreation Centre (3220 Cedar Hill Rd)
View information about the Garden Suite Study and fill out a survey.
Thursday, April 5, 2018
9:00 a.m. – 12:00 p.m.
G.R. Pearkes Recreation Centre (3100 Tillicum Rd)
View information about the Garden Suite Study and fill out a survey
3. Information displays (no staff present)
Information and surveys will be available at the following libraries in Saanich:
March 21 - March 29, 2018
Saanich Centennial Branch (3110 Tillicum Rd)
April 3 - April 13, 2018
Bruce Hutchison Branch (4636 Elk Lake Drive)
4. Open Houses

Garden Suites Presentation Boards.
Garden Suites Study PowerPoint Presentation
Thank you Saanich! The Open Houses were a great success.
We will compile and analyze your feedback. A summary report will be available online soon.
Stay informed!
Register to our notification list for updates. You will receive an update when there are opportunities for public input or when this subject will be considered by Council.
Background
Garden suites are detached ground-oriented residential dwellings located in the backyard of a property with a single-family home as its primary use.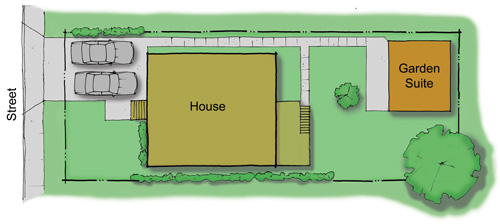 Garden suites are currently not permitted in Saanich. However, there has been growing community interest in having a garden suite to help offset a mortgage with rental income, house a family member, or provide an accessible living situation.
On September 11, 2017, Council adopted a Terms of Reference for a study to explore potential regulatory changes to permit garden suites. The study will take approximately 12 months to complete and will involve lots of opportunities for public input.
Documents and Reports