Garden suites are detached ground-oriented residential dwellings located in the backyard of a property with a single-family home as its primary use.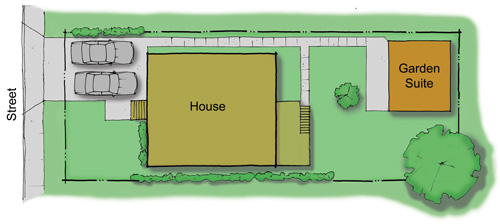 Garden suites are currently not permitted in Saanich. However, there has been growing community interest in having a garden suite to help offset a mortgage with rental income, house a family member, or provide an accessible living situation.
On September 11, 2017, Council adopted a Terms of Reference for a study to explore potential regulatory changes to permit garden suites. The study will take approximately 12 months to complete and will involve lots of opportunities for public input.
Background information
How can I stay informed?
Register to our notification list for updates. You will receive an update when there are opportunities for public input or when this subject will be considered by Council.