Thank you to everyone who provided feedback in March and April. Your input is important and it will be used to help inform potential regulations.
We are moving ahead with more consultation to validate the results of the first community survey and to gather additional input on specific aspects of the regulations.
Here's what's coming in June
Second community survey
This survey will explore in more detail potential regulations for building location, height, size and design. Questions will build on the feedback received through the first community survey, as well as at open houses and pop-up information displays.
Statistically significant survey
If you are a resident of Saanich living inside the Sewer Service Area you may receive a letter inviting you to participate in a survey online or by telephone. The purpose of this survey is to validate the results of the first community survey.
Technical workshop
By invite, stakeholders with specific knowledge in the areas of home building and design and real estate will join Saanich staff for a workshop on June 7. The purpose of the workshop is to explore key aspects of the regulatory framework for garden suites.
Stay informed!
Register to our notification list for updates. You will receive updates by email when there are opportunities for public input or when this subject will be considered by Council.
Project Timeline
We are currently midway through Phase 2 and we will be entering Phase 3 in July.
Background
Garden suites are detached ground-oriented residential dwellings located in the backyard of a property with a single-family home as its primary use.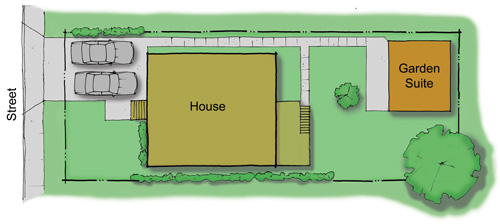 Garden suites are currently not permitted in Saanich. However, there has been growing community interest in having a garden suite to help offset a mortgage with rental income, house a family member, or provide an accessible living situation.
On September 11, 2017, Council adopted a Terms of Reference for a study to explore potential regulatory changes to permit garden suites. The study will take approximately 12 months to complete and will involve lots of opportunities for public input.
Documents and Reports
Open Houses (March 2018)

Other Documents